Kremikovsky Monastery, Perperikon and Hissarya Thermae to be given a facelift with EU funds
Wax figures of rulers will welcome tourists to the Valley of the Thracian kings
November 08, 2019 14:30
Plamen Petrov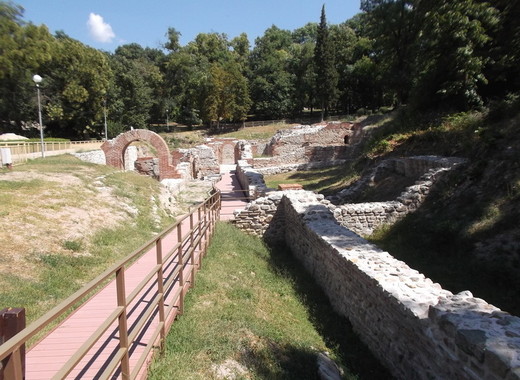 Source: Ministry of Regional Development and Public Works
The Kremikovskiy Monastery near Sofia, the Perperikon archaeological complex, the Valley of Thracian kings and the Thermae of Ancient Diocletianopolis (present-day Hissarya) are cultural and historical sites of national importance and emblems of tourism in Bulgaria. For their restoration, socialization and enhancement of their tourism potential, the respective municipalities - Sofia, Kardzhali, Kazanlak and Hissarya – have applied for funding with projects worth a total of over BGN 31 million. The required funds will be allocated under Operational Programme "Regions in Growth" 2014-2020, announced on November 5 the Ministry of Regional Development and Public Works (MRDPW), which manages the funds under the program.
Sofia Municipality's project "Kremikovski Monastery - the spiritual centre of the Holy Mountain of Sofia" provides for the restoration of murals, the repair of the roof and drainage of the medieval Saint George Church and the socialization of archaeological structures. A new North Monastery Wing will house an information centre, a museum exhibit, a cellar, a chapel with bell tower, monastery workshops for the production of sweets, syrups, and souvenirs where visitors can receive training. This will create a whole new tourism product that combines cultural and spiritual values ​​with natural sights, the ministry explains.
The Municipality of Kardzhali has applied for a project that envisages the conservation and restoration of part of the Perperikon archaeological complex and the construction of tourist infrastructure for its socialization. The aim is to achieve an integrated tourism product - "Perperikon" - and its popularization through the distribution of information and advertising materials, the purchase of interpretive equipment and equipment for the visitors' centre of the complex, the government agency said.
Thracian and Roman heritage
The "World of Thracians" project of Kazanlak municipality envisages the conservation, restoration and socialization of a Thracian tomb and cult complex "Ostrusha" and construction of a bicycle lane from the town of Kran to the town of Shipka. It is also planned to build a tourist complex that will function as an information centre and act as a gateway to the Valley of the Thracian kings. It will have a multifunctional room with 3D virtual reality and the possibility of organizing various events and craft workshops, as well as a conference room. The complex will also have a Throne Hall - a museum with wax figures of Thracian rulers.
The project of Hissarya municipality "The ancient city of Diocletianopolis (Hissarya) - balneotherapy pearl of the Roman Empire's Thracian province", covers three sites: the southern gate of Diocletianopolis; the Thermae and the Northeast corner tower. Conservation, restoration and construction work will be carried out to improve the overall tourism product, with complementary measures for interpretation and information of visitors on the history, significance and development of the sites.
Earlier this year the procedure under Operational Programme "Regions in Growth" 2014-2020 provided BGN 8.2 million for the restoration and adaptation of the Synagogue in Vidin and its surrounding area, which will turn the complex into an attractive tourist and cultural destination, MRDPW recalls.
TheMayor.EU stands against fake news and disinformation. If you encounter such texts and materials online, contact us at info@themayor.eu