Latvian municipal reform faces hurdles in second reading
Municipalities and opposition MPs are fighting harder and harder the change the nature of the reform
March 09, 2020 14:30
Anton Stoyanov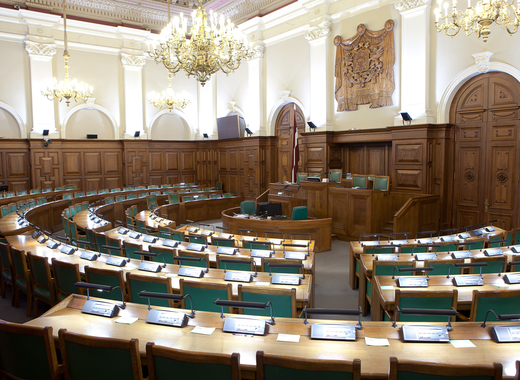 Source: Saeimas sēžu zāle - Flickr - Saeima (14) Saeima / CC BY-SA 2.0)
The Latvian parliament has been discussing and debating the government's proposal for a municipal reform since Thursday, 4 March 2020. The second reading of the bill has been tumultuous at best with opposition MPs and local government representatives fighting hard for their proposals to be heard.
In essence, the reform proposed by the Latvian government aims to reduce the number of municipalities in the country from 119 to 39, thus improving their efficiency and effective reach. Yet not all cities and towns have been happy with the proposed mergers and have demanded changes to the proposal.
Stumbling towards election season
The government's goal is to finalize the reform before May 2020 – e.g. before Latvians head to the polls to elect their local representatives. Yet things are looking increasingly dire for such an ambitious timetable.
On Thursday MPs found a total of 316 proposals that have been submitted in order to change the proposed municipal reform bill. They slowly started debating them, managing to get through 44 of these proposals by Friday.
So far among the notable rejected ideas are the creation of a county system, that would have divided Latvia into two separate counties; the formation of district unions; the elevation of Jelgava, Valmiera, Jekabpils and Ventspils to the status of big cities and various others.
In an attempt to speed up the process, pro-government MPs also attempted to reduce the time for debate on the various motions, believing that going through 316 proposals at a standard pace might offset the precarious timetable.
While the government and its parliamentarians have stood soundly by the proposed reform, they have proven to be somewhat flexible on some points – including the granting of exceptions for the creation of new municipalities. For example, they previously consented to raise the number of new municipalities from 35 to 39, by creating 4 additional ones for the cities of Liepaja, Daugavpils, Rezekne and the district of Ulbroka.
TheMayor.EU stands against fake news and disinformation. If you encounter such texts and materials online, contact us at info@themayor.eu