Less curves may save more lives
This is not about dieting; it is the plan for a road upgrade in Navarra
November 17, 2020 20:30
Tzvetozar Vincent Iolov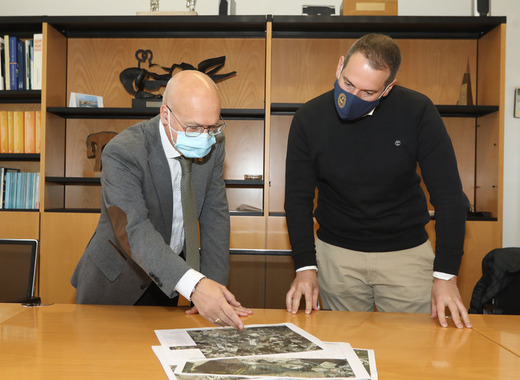 Source: Gobierno de Navarra
There are many factors which affect road safety and the number of traffic incidents that happen. Many, or even most of them, have to do with the drivers themselves and the condition of their vehicles, yet there are others which stem from the road conditions, design and the traffic sign postings. And that second part depends directly on the efforts and concerns of local authorities when it comes to the safe mobility of citizens.
In that light, the Navarra Ministry of Territorial Cohesion announced today a plan for the redesign of rural road stretches, more specifically the NA-6008 and the NA-6000 in the municipality of Cendea de Galar, located just to the south of the regional capital Pamplona.
Road curves reduce visibility
The two institutional bodies met today to discuss an infrastructural plan that had been approved to be carried out next year for the cost of 1.4 million euros, shared between the Ministry and the Municipality.
The road section in question stretched out for only 2.4 kilometres between the intersection of the NA-6008 and NA-6000 yet it counts with 23 curves. What is more, it is only 4 metres wide and has deep ditches alongside it. All of that presents a significant risk for the traffic flow – the road is too narrow for many of the agricultural vehicles using it, not to mention that it makes it quite hard for two vehicles to pass each other.
The road upgrade will therefore include a significant widening which will make it almost twice as wide as it is now, with the inclusion of shoulders and roadside berms. What is even more significant, however, is that the number of curves will be reduced almost by half – from 23 down to 12.
This will make the road safer also for pedestrians and cyclists who regularly traverse this rural stretch.
Another curve that has been considered dangerous is the one on NA-6000 in the vicinity of Esparza de Galar. It counts with a formidable radius of 57 metres in an area that has 6.9% of elevation gain. This presents quite the turning challenge for drivers and poses a significant risk. After renovations, the radius will be reduced to only 12 metres.
TheMayor.EU stands against fake news and disinformation. If you encounter such texts and materials online, contact us at info@themayor.eu