Available in:
Share article
Limerick's Opera Site greenlighted
The project will be the largest inner-city commercial development outside of Dublin
March 02, 2020 18:30
Plamen Petrov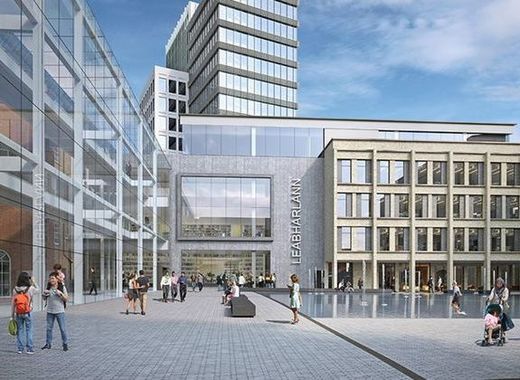 Source: Limerick City and County Council
An Bord Pleanála, Ireland's planning authority responsible for local level projects, has finally granted planning permission for the Opera Site in the city of Limerick. Limerick City and County Council hailed the decision as one of the key pivotal moments in the great success story that Limerick has become.
The Opera Site spanning 1.62 hectares will be the largest inner-city commercial development outside of Dublin. It will be implemented over a six-year period at a total cost of €180 million and will involve some 3000 workers. The project is fully funded thanks to commitments from the European Investment Bank and the Council of Europe Development Bank.
Developer Limerick Twenty Thirty DAC (LTT) will begin work on the project in the second half of this year. LTT is a special-purpose company set up by Limerick City and County Council in 2016 to breathe new life into disused iconic sites in the city and county. The project will be developed to LEED Gold and Nearly Zero Energy Building (NZEB) standards.
Limerick - Atlantic Edge European Embrace
The mix-use Opera scheme will comprise a 14-storey landmark building at Bank Place, a 4-6 storey over-basement building with retail area and restaurant/café, a 5 storey building on the corner of Patrick St. and Ellen St. comprising an apart-hotel, a basement car park at Opera Square, among other buildings. Under the project, the former Town Hall will be renovated and a new 6 storey extension will be added to it to house a new public library with office floor space and café/restaurant in the basement.
Welcoming the Bord Pleanála decision, Mayor of the City and County of Limerick Michael Sheahan said, quoted by Limerick's official website: "This will literally transform our city centre into a world-class space capable of attracting major global investment and, more importantly, people to work and indeed, live there. We recently launched a bold and first ever brand proposition, Limerick - Atlantic Edge European Embrace. That was a declaration of confidence as to what Limerick has become, a city at a European-Atlantic crossroads, attracting inward industry, tourism and education investment."
Like the article? Subscribe to our newsletter to receive the latest from the EU cities right into your inbox.