Available in:
Share article
Local vegetable markets spring back to life in Daugavpils
More and more people are heading to the green market stalls within the city's neighbourhoods
May 09, 2020 11:00
Anton Stoyanov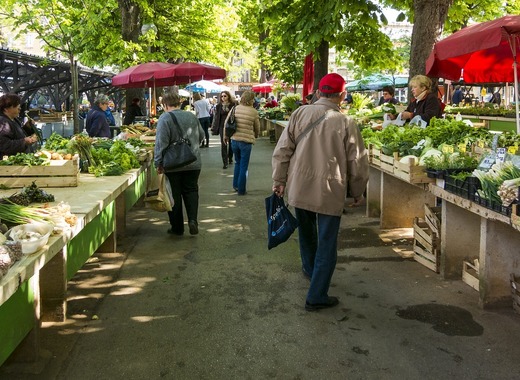 Open markets are traditionally some of the most frequented venues in cities and towns across Europe – packed with people, both buyers and sellers, they present not only a socializing opportunity but also the chance to support home-grown produce and local farmers and business owners.
Yet with the onset of the coronavirus pandemic, the upsides of such open-air markets quickly turned into their downfall. Social distancing measures were quickly adopted that proved impossible to be kept in check at such locations – which in turn led to the closure of many of them across the continent.
Municipal support to spread out the opportunities
Some cities have taken a more creative approach to the problems presented for markets. Instead of just closing them down, the Latvian municipality of Daugavpils has introduced increased protection measures in the urban area's neighbourhoods where market stalls for local produce are allowed to be installed. And citizens have proven eager to jump at the opportunity.
The central vegetable market, located in the heart of the city, remains relatively deserted at the moment, despite it being open. Citizens are still confined to their homes and prefer to take shorter and less-riskier trips – despite the central market and its sellers being completely outfitted and ready to meet customers.
The markets in the different city districts, however, are more active than ever. The locations are rented out by the municipality for the affordable price of 3 euros per month and have grown into a preferred venue for citizens – with some of them boasting more daily customers than the one located in the city's centre.
The return of citizens to markets plays not only a vital role in supporting Latvian vegetable producers but also makes for an excellent socializing opportunity that can stave off feelings of loneliness. And thanks to Daugavpils authorities and their strict enforcement of healthcare measures, locals can feel safe when attending them.
Like the article? Subscribe to our newsletter to receive the latest from the EU cities right into your inbox.