Lodz is rolling out buses powered by solar energy
Find out more about the new sustainability measure in transport
May 13, 2019 11:30
Aseniya Dimitrova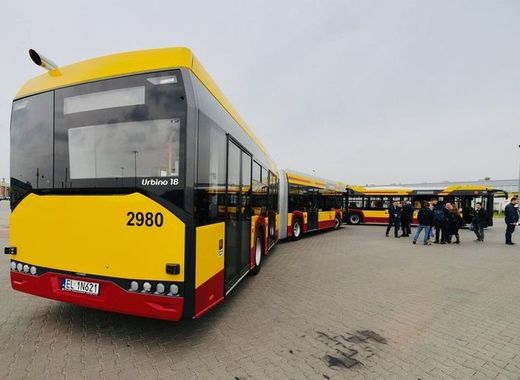 Source: Paweł Łacheta/ City of Lodz
Public transport in Łódź is on the verge of becoming more sustainable, report local authorities. Within several weeks fortysix brand-new low-floor and air-conditioned Solaris Urbino buses will be circulating around the streets of the Polish city. So far, Solaris have delivered half the expected quantity, the rest expected by 3rd June 2019. The new rolling stock will be assigned to the Nowe Sady and the Limanowa depots. The former will thus acquire 20 articulated buses and 14 solo buses, and the latter - 12 solo buses respectively.
Articulated Urbino have 135 seats while Urbino 12 (solos) models can accommodate 85 passengers, 26 of which seated. All buses are low-floor, equipped with ticket machines and air-conditioning. So far 20 of them have new solar panels installed on the roof and the other 26 could follow suit after the testing of the solution by MPK - Łódź. Photovoltaic panels can power electricity devices, such as ticket dispensers and thus reduce the demand for electricity that is normally produced in a vehicle by an internal combustion engine.
It is not for the first time that MPK - Łódź decides to rent from Solaris, the last such contract having been signed in 2014. Thanks to a ten-year lease agreement, the company is well aware of the costs of maintaining vehicles and is certain that the supplier will ensure proper servicing. The latter is to be provided by MPK employees trained by Solaris, who will also supply spare parts. The supplier's task will be to ensure the correct operation of all bus systems based on the original parts. This way the cost of maintenance of the vehicles for the next ten years will be publicly known. The contract for the ten-year bus rental along with servicing costs, amounts to over PLN 125 million gross, at the end of which MPK may purchase the vehicles or return them to the producer.
The new Solaris will replace worn-out Volvo and Jelcz. Currently, 149 Solaris buses run through Łódź which represents nearly 37 percent of all buses in Lodz.
TheMayor.EU stands against fake news and disinformation. If you encounter such texts and materials online, contact us at info@themayor.eu