Loop traffic in Vilnius Old Town comes into force
Visitors and residents can drive to their destinations as before, but will not be able to cross the historic city centre
July 07, 2020 16:00
TheMayor.EU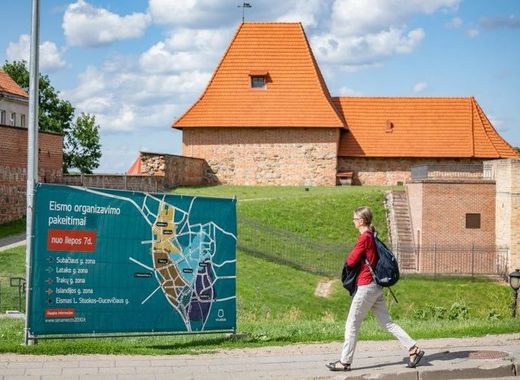 Source: vilnius.lt
Starting today, July 7, traffic through Vilnius Old Town is organised in an entirely new way. The change obliges all cars with the exception of public transport vehicles to move in four loops that cover the entire historic city centre. The main entrances are in Trakų, Islandijos, Subačiaus and Latako streets, and the exits - in Visų Šventųjų, Klaipėda, Rūdininkų and Universiteto streets. Each loop has 1-2 exits.
In order to make it easier for drivers to remember the routes, the Old Town is divided into four coloured zones according to the loops: brown (Trakų St. zone), orange (Islandijos St. zone), purple (Subačiaus St. zone) and blue (Latako St. zone).
Loop traffic explained
Moving in loop traffic means that when entering the Old Town on one side, it will be possible to make the exit only in that same part, so crossing the Old Town is out of the question. The Old Town area will also be accessible via smaller streets, but they will also belong to one of the four loops.
The traffic in each loop is one-way only, regulated by prohibitory traffic signs, barriers and a 20 km/h speed limit. Finding the right entrance is easy - just look at the map to see what colour zone your destination is in, and it will become clear which street you have to take to get there. Using GPS navigation apps like Waze or Google Maps will also help.
According to Vilnius Deputy Mayor Vytautas Mitalas, the most important thing is to plan the route in advance, after examining the schemes available both on the Internet and at the entrances to the Old Town, and to choose the most convenient place for entry and stopping.
Why loop traffic in Vilnius Old Town?
The city government has made the decision to introduce loop traffic regulation in order to reduce transit traffic through the scenic Old Town which makes up 40 percent, rocketing to 70 percent in the mornings. Car traffic increases pollution and noise, reduces the safety of road users, and has a negative impact on the condition of historic buildings and the quality of life there. So, it is high time to "unpack" the Old Town, reads the campaign slogan, urging people to indulge in its historic heritage slowly and best on foot.
Keeping abreast of the best
In planning the loop traffic system, Vilnius has emulated the best examples such as Stockholm, where you have to pay to cross the city centre and make a big arc to get to the right place, which prods you to walk, cycle or use public transport without polluting the environment. Foreign polls show that in the first three months of introducing such changes, most respondents feel dissatisfied with the need to change habits. But later, when they get used to the new ways, they become receptive to the benefits of a quieter, cleaner and safer city.
TheMayor.EU stands against fake news and disinformation. If you encounter such texts and materials online, contact us at info@themayor.eu