Major Mayors of Europe – Dubravka Šuica
Meet Dubravka Šuica – the two-term mayor of Dubrovnik who will be shaping the future of Europe as Commissioner over the next 5 years
September 13, 2019 19:30
Anton Stoyanov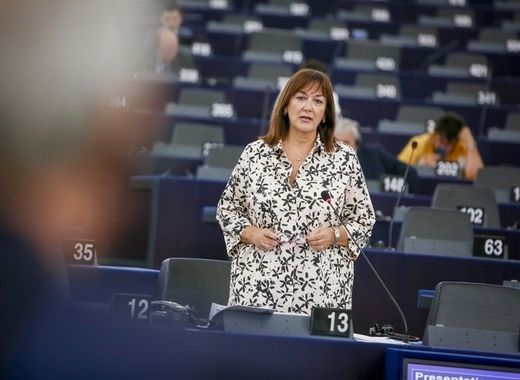 Source: European Parliament [CC BY-SA 4.0]
Who is Dubravka Šuica
It's hard to beat Dubravka Šuica when it comes to political biographies. She first entered Croatian political life back in the 1990s and was soon elected mayor of Dubrovnik - the country's tourism capital. She served out two full terms between 2001 and 2009 while simultaneously finding the time to be a more than competent and impactful policy maker in the country's national parliament, where she served between 2000 and 2011. In 2013 she started her first term as an MEP and was reelected in 2019. And just this week, Dubravka Šuica was once again the centre of attention following her nomination for European Commission Vice President for Democracy and Demography.
The crown jewel of Croatia
Nowadays everyone knows of Dubrovnik – avid fans of HBO's Game of Thrones are practically living in its streets, as it served as one of the main sets for the show. It's hard to imagine the city not having the massive cultural footprint it has today. Yet in the wake of the Yugoslav wars, the city was devastated and was in dire need of rebuilding – not only of its infrastructure but of its global image as the perfect tourism spot. That's precisely were Dubravka Šuica's most important achievement lies.
During her two terms she carried out her revitalizing vision of the Adriatic city, turning it into to go-to spot of "elite tourism" on the Croatian coast. When she was elected for her first term, she was confronted with the problems of a city barely recovering from the recent ravages of war, but in just a few short years, Dubrovnik was restored to its former glory. Not only that, but she took it upon herself to personally promote the city's tourism opportunities abroad. Her success is now clearly evident by Dubrovnik's standings in international tourism rankings, but even back then Dubravka Šuica's efforts and triumphs were recognized – she was named Croatian Mayor of the Year in 2005 and in 2006 she was in the top 10 of World Mayors.
A further example of her wild success and impeccable forward thinking were her ambitions for developing a functioning local sustainable economy – a cause she championed in the early 2000s, which is just now being recognized as vital by other European cities. It's exactly her ability to always look towards the future that makes her the perfect fit for what comes next.
Minesweeper
Dubravka Šuica was handed one of the most politically loaded portfolios – and we're not even talking about the "Democracy" part. When it comes to "Demography", she will have to navigate extremely treacherous waters over the next 5 years as she tries to find a balance between functioning policies and harsh realities. On the one hand she will have to appease governments who want to promote larger families with more children, while simultaneously backing the calls of businesses craving low-skilled foreign workers.
The new commissioner will have to manage a careful balancing act between the acceptable and the evident, while at the same time preserving her political life without drawing the ire of heads of government or the European Parliament. In the end however, no one is actually expecting the Mrs. Šuica to figure out new groundbreaking policies that revert the continent's demographic collapse. She will be far too busy with her other tasks.
The future of Europe
The new Commissioner for Democracy and Demography will be leading the Commission's efforts in organizing the conference on "The Future of Europe". The 2-year event is the culmination of the massive surge in support for the European Union following Brexit and the election of U.S. President Donald Trump and the sharp rise in voter turnout on election day in May 2019. The new reality that Europe is facing further cements the need for a grander and more ambitious vision for the future of the continent. With European citizens turning their gazes towards existential threats ranging from climate change to shifting geopolitical realities, the continent suddenly finds itself in dire need of a coherent vision and direction. Dubravka Šuica will be instrumental to the Commission's approach to the issue as she will be working alongside representatives from both Parliament and the Council to set out a common approach towards the future – an approach that takes citizens' concerns into account and makes good on the European Union's newfound democratic legitimacy.
We can hardly think of anyone better suited for the task than Dubravka Šuica. Her achievements have earned her the respect and admiration not only of her peers but of ordinary citizens as well. And this is precisely what a Commissioner for Democracy needs – a tangible democratic mandate that leads to results. Dubrovnik's former mayor has her work cut out for her, but her experience and legitimacy will without a doubt help her along the way towards making Europe a better place for all European citizens.
Local governments are usually the authorities closest to their citizens. As heads of such governments, Mayors often bask in unrivaled democratic legitimacy. While some are perfectly content with serving their constituents on the local level for many years, others use their popularity to propel themselves onto the national and international stage and send ripples across the whole world.
TheMayor.EU stands against fake news and disinformation. If you encounter such texts and materials online, contact us at info@themayor.eu