Mini free-travel areas appear around Europe
The Baltics, Central Europe and the UK and France are all implementing their own mini versions of unimpeded cross-border travel
May 14, 2020 17:30
Anton Stoyanov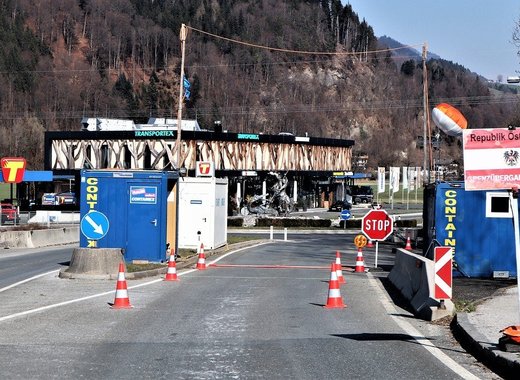 During the onset of the coronavirus pandemic countries around Europe quickly went about closing and shutting down their borders, thus effectively putting one of the EU's greatest achievements – namely free travel between member countries, on indefinite hold.
Yet what might some nationalist and far-right parties might consider a dream come true has been turning into a real nightmare for parties that actually take part in proper governance. And while it is still far too early according to health officials to begin lifting all cross-border restrictions, some countries have gone about implementing miniaturized versions of facilitated cross border travel to their nearest and most vital neighbours.
The Baltics leading the charge
The three Baltic countries Lithuania, Latvia and Estonia have a deep and established partnership that was put under heavy strain during the first months of the pandemic. Many citizens of the Baltic countries often find employment in other parts of the region which demands them to be able to easily traverse at the very least one border.
In order to respond to citizen concerns the three Baltic Prime Ministers reached an agreement earlier in May for the lifting of a number of restrictions – including the suspension of the mandatory 14-day quarantine upon entry for persons arriving from another Baltic country, and the refocusing on key infrastructure projects that would make travel easier – like Rail Baltica.
Depending on the success of this initiative, the governments of the Baltics have also sent out signals that they will be ready to extend the measures to other neighbouring countries that have proven themselves in tackling the spread of the coronavirus – including Poland and Finland.
Central Europe's mini-Schengen
Politicians from Slovakia, Austria and Czechia have also been engaged in discussion for the creation of a free travel zone between themselves. All three countries have successfully managed to stem the tide of new coronavirus cases and are looking towards reopening their borders in order to stimulate economic growth.
Such steps are currently scheduled to be taken at some time in July, according to Slovak officials who believe that by then, things should have calmed down sufficiently in order to reestablish free travel.
Meanwhile, Austrian officials have also been talking free travel with neighbouring Germany, whose tourists are of great importance to the country's economy. Thanks to both the states' exceptional handling of the crisis, the suspension of mandatory quarantine requirements might also be in the cards.
A plethora of ideas and initiatives
Other groups of countries have also been eager to restart free travel on a smaller scale – including the three Benelux countries, Spain and Portugal and Greece, Cyprus and Israel.
The United Kingdom and France have also been engaged in similar discussions, that would allow for British tourists to visit mainland Europe for their holidays potentially without being forced into quarantine. The same already applies for French citizens visiting the British isles and is meant to serve as a gesture of goodwill but it is worth remembering that the UK is among the countries that have gone through one of the worst handlings of the pandemic not only in Europe but across the world.
Meanwhile, European authorities in Brussels are currently tinkering with ways and approaches that would eventually lead to the full reopening of borders between EU member states and the full reimposing of Schengen. That, however, is some time off as different countries have been dealing with COVID-19 with varying degrees of success.
TheMayor.EU stands against fake news and disinformation. If you encounter such texts and materials online, contact us at info@themayor.eu