Movement between Estonia's islands and the mainland to be restored on 18 May
The government banned all public events in the country in May and June
April 29, 2020 16:00
TheMayor.EU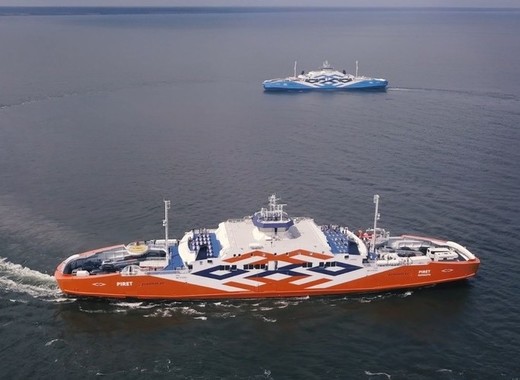 Source: TS Laevad
Restrictions on movement between the western islands of Estonia and the mainland will be lifted on 18 May, Minister of Justice Raivo Aeg said at a press conference on Tuesday.
Aeg, quoted by public broadcaster ERR, made clear that the government decision will only take effect if the coronavirus shows signs of diminishing. As of 29 April, Estonia has 1666 confirmed cases and 50 fatalities. The government also decided on Monday to ban all public events in Estonia in May and June, as well as major events (size to be determined later) until September.
Aeg specified that permanent residents of the islands can start moving freely between the mainland and islands from May 4. Visitors to Saaremaa, Muhu, Manija, Hiiumaa, Kihnu, Ruhnu and Vormsi will be issued a limited number of special permits valid for one round trip.
Tourists will not be allowed. The local governments will oversee who can travel to and from the islands.
The Estonian government also decided to relax restrictions on trade and the service sector in Saaremaa from next Tuesday. Responding to the decision, TS Laevad, the ferry traffic provider in Hiiumaa and Saaremaa, proposed to the Road Administration to restore the usual route schedule on 18 May.
Prime Minister Jüri Ratas wrote on his Facebook page that movement between the islands and the mainland, sorely needed to restore daily life and revive the economy, will restart step by step in order to keep the spread of the coronavirus in check.
PM dissatisfied with the handling of the coronavirus epidemic
Saaremaa has become the epicenter of Estonia's coronavirus outbreak after visiting Italian volleyball team Powervolley Milano played two matches against Saaremaa VK in the CEV Challenge series on 4 and 5 March. Speaking Tuesday on the "Otse Postimehest" live show, a webcast from daily Postimees, the Prime Minister strongly criticized the decision to hold the sports events amid the epidemic already running rampant in Italy.
Ratas also voiced his dissatisfaction with the handling of the coronavirus crisis by the Health Board (Terviseamet), hinting of possible reshuffle there.
TheMayor.EU stands against fake news and disinformation. If you encounter such texts and materials online, contact us at info@themayor.eu