Munich retires pop-up bike paths for winter rethink
The City Council will evaluate their performance and decide on whether they should return in Spring 2021
November 08, 2020 10:00
Anton Stoyanov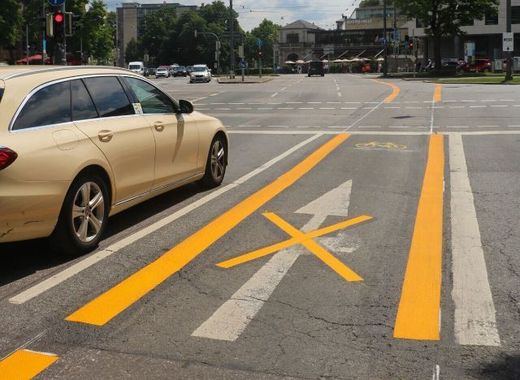 Source: Muenchen.de / Marie-Lyce Plaschka
Earlier this year, during the first months of the COVID-19 pandemic, Munich became one of the first cities in Germany to introduce the so-called pop-up bike paths. The solution was meant to make way for more pedestrian and cycling traffic that accommodates the social distancing measures imposed to prevent the spread of the disease but it also turned out to be a great hit among cyclists who came out in great numbers during the spring and summer months.
With the onset of winter, however, with fewer and fewer cyclists on the road, Munich will be rolling back these traffic changes in order to reflect on how to improve them in the future.
Poised for a comeback in 2021
Bicycle traffic skyrocketed in Munich during the coronavirus pandemic. Yet winter has the habit of making people prefer other modes of transportation (if any). Thus, cycling is not particularly popular during this time of year which allows local authorities to roll back the pop-up bike lanes experiment, reflect and consider its future.
The final pop-up cycling lanes were removed on 31 October and over the next few months, authorities will monitor and assess their impact on mobility and travelling behaviour. The effect and use of the cycle paths should be assessed individually on each of the streets. The city council will then decide in spring 2021 where permanent cycle paths will be built as a step forward from the temporary accommodations set up during the initial months of the pandemic.
Through the evaluation, it should be determined whether cyclists use the paths to switch to other roads and for which cycle paths a permanent implementation makes sense. The interests of all road users should be represented as the local government's long-term goal is to create a more sustainable transport plan for the entirety of Munich.
TheMayor.EU stands against fake news and disinformation. If you encounter such texts and materials online, contact us at info@themayor.eu