Museums and monuments are open in Paris to celebrate the first day of 2019
Check the list with the museums and monuments open on January 1 in Paris
January 01, 2019 17:30
Olya Georgieva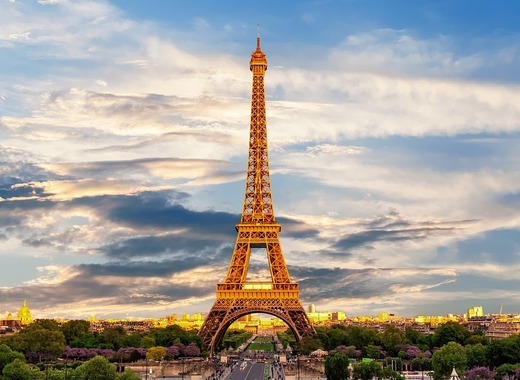 Source: Pixabay
Some of the most famous Parisian museums and monuments are open to welcome tourists and Parisians on the first day of 2019. If in Paris, enjoy the day and visit the Eiffel Tower, Notre Dame, Domaine de Saint-Cloud, Montparnasse Tower, Château de Breteuil, The Atelier des Lumières, Musée Jacquemart-André, Espace Dali Paris, Musée en Herbe and Musée Grévin.
Eiffel Tower: 9:30 a.m. – 11 p.m.
Built for the World Fair 1889, the Eiffel tower was said to be dismantled in 1909, but the scientific experiments made possible because of its height saved it. On the 2d floor, the view is a must, you will discover the impressive panorama of Paris monuments (for Parisians, it's a lovely reminding session but a fascinating discovery of the city for tourists).
Notre Dame: 8 a.m.-6:45 p.m.
With its thirteen million visitors a year, Notre-Dame de Paris is one of the must-see places in the French capital. A cult place as much as a monument and a witness of Paris history since its construction.
Domaine de Saint-Cloud: 7:30 a.m. – 10 p.m.; museum from 3:30 p.m. to 7 p.m.
The hydraulic system enlivens the gardens with a temporary entertainment, that you will discover throughout a walk. All along the walk, the water goes from pools to fountain to spring out 30-m away at the Grand Jet before finishing its race in the whirling pool of the Grande Cascade, the highlight of the show to be seen in July and October only!
Montparnasse Tower: 9:30 a.m. - 11:30 p.m.
Enjoy views on Paris at 200 meters above the ground. And for the school break, the Montparnasse Tower Observatory Deck offers an uncommon activity: Bubble Foot to try from October 19 to November 4, 2018.
Château de Breteuil: 11:30 a.m. – 8 p.m.
Discover the history of the Château de Breteuil and its fantastic furniture thanks to the guided tours held all day long. In the afternoon, the castle story-tellers make you travel through Charles Perrault's tales: Donkeyskin, Little Red Riding Hood, Puss in Boots…
Museums open on January 1, 2019:
The Atelier des Lumières: 10 a.m. – 6 p.m.
A new place to be discovered, the Atelier des Lumières is about to rock Paris 11th arrondissement with a Digital art center set in a former smelting plant from the 19th century. For its opening, Atelier des Lumières will offer a 30-minute immersion into Gustave Klimt's work thanks to over 120 video-projectors! The first exhibition of the Atelier des Lumières is dedicated to Klimt and Hundertwasser!
Musée Jacquemart-André: 10 a.m. – 6 p.m.
In this beautiful private mansion purchased by Edouard André for his wife Nélie Jacquemart, we find the beautiful collection of art passionate, as well as their living place, left as it used to be, including the reception rooms, the music room and the dining room.
Espace Dali Paris: 10 a.m.-6:30 p.m.
Confidential museum in Paris, Espace Fali has been welcoming the greatest private collection of Salvador Dali's work for 25 years. After closing for 4 months for embellishment works, Espace Dali is to reopen on April 13, 2018 with a new visit route, a new offer thought to revitalize the museum.
Musée en Herbe: 10 a.m. – 7 p.m.
Musée en Herbe, known for introducing children to art, has a new exhibition entitled Mr. Men at Paris Musée en Herbe.
Musée Grévin: 11 a.m. – 7 p.m.
Created in 1882 by journalist Arthur Meyer, Musée Grévin is now one of the most visited places in the French capital! The year 2018 marks 135 years of existence so, to pay it tribute, go to discover or rediscover its greatest was figures!
Source: sortiraparis.com