Available in:
Share article
Ostrava turns old slaughterhouse into a municipal gallery
A 150 million crowns project will restore the original appearance of the place
September 09, 2019 09:30
Aseniya Dimitrova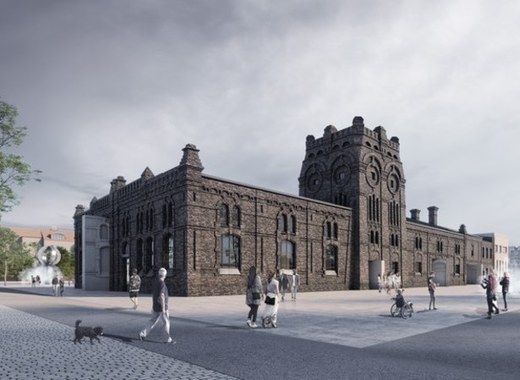 Source: City of Ostrava
It was in February 2017 when Ostrava ordered the reconstruction of the former urban slaughterhouse in a bid to save the dilapidating monument and use it for cultural purposes. Now we have clear idea what the place will look like after the project is completed in 2021. Selected by a jury comprised of eight participants, the contract was awarded by the Czech city to the Polish studio KWK PROMES and architect Robert Konieczny.
Thus, the building of the former municipal slaughterhouse will become the seat of the Municipal Gallery of Modern Art PLATO. In the premises of the former slaughterhouse there will be an exhibition space for contemporary modern art, which will also include an outdoor space. Its six exhibition halls could be interconnected or operate independently. The building will also house offices, meeting rooms and a bistro.
The works will start in the spring of 2020 and the price of reconstruction must not exceed 150 million crowns. The aim of the city to return the slaughterhouse to their original appearance and at the same time to adapt the building and its surroundings for cultural purposes has not changed, confirms Mayor of Ostrava Tomáš Macura. The author of the conversion architect Robert Konieczny is a world-class expert who will enrich the city with a truly interesting building. The mayor reminded that the Pavilion of the Museum in Szczecin the architect designed won the World Building of the Year 2016 award.
The initial planning for the site had to be changed, however. As the ceiling of the new slaughterhouse collapsed it had to be demolished this spring. At the same time, it turned out that the newest part of the old slaughterhouse was so unstable that it also had to be demolished and replaced.
The existing building is dominated by two historical materials: exterior bricks and interior white plaster walls. In order to preserve the historical continuity, the gallery interiors will be complemented by these two materials and then by concrete. The renovation will be made of modern materials. Brick walls will be carefully cleaned and minor defects - removed. All new elements will be made of a modern polymer-cement material resembling light concrete, contrasting with the dark brick facade of the building. Massive revolving walls will close the characteristic openings. Each gate will be a unique structural element with a steel structure, finished with a modern concrete-like mass. The existing windows open the view to the exhibition halls. This will give PLATO completely new possibilities for communicating with the audience inside and outside.
Nothing like this has been achieved anywhere in the Czech Republic. We are full of expectations, added the director of the PLATO gallery Marek Pokorný.
TheMayor.EU stands against fake news and disinformation. If you encounter such texts and materials online, contact us at info@themayor.eu