Plamen Russev - The Visionary of Bulgaria 4.0
Our aim is to prove that every Bulgarian can be successful globally without leaving the country
June 26, 2018 09:50
Monika Dimitrova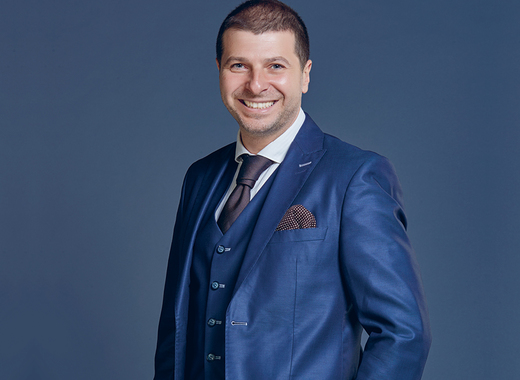 Source: Economy Magazine
Dr. Plamen Russev is an investor and serial entrepreneur with a global impact. He mainly invests in technology companies in the fields of blockchain, digital health, finance and e-sports. As an executive chairman of the Webit Foundation and a member of the Board of Directors of Endeavor Bulgaria, he is among the philanthropists of Bulgaria working towards developing the entrepreneurial and innovative ecosystems and imposing our country as a leader in Europe. "Sofia - Digital Capital" is one of the projects created by Webit, which positions Bulgaria on the world map of innovation
Mr. Russev, Webit is already traditionally included in the technological and entrepreneurial event calendar. This year, however, is special and there are quite a few new moments - specify the main ones.
This year Webit will celebrate the 10th anniversary edition in Sofia and the 22nd edition of the World Series of Events Webit! We are delighted that Webit.Festival (www.webit.bg) was chosen as the flagship event for the Digital Economy of the Council of Europe's Presidency. For the first time in the history of Europe over 1500 prime ministers, commissioners, ministers and policy leaders will meet with over 5,000 of the world's business, academic and start-up leaders and investors.
Webit emerges as one of the most influential forums for technologies, smart cities, eHealth, cybersecurity, financial technology, blockchain and their legislative framework in Europe in 2018! And it is happening in Sofia, which we have declared as a digital capital and proved that it is so with our work and in partnership with Sofia Municipality!
In addition, the forum grew almost double as partners and exhibitors, and this (as well as other factors) forced its move to Arena Armeec. Over 200 exhibitors and partners from around the world will present their technological and digital solutions, discuss the future of technology, society and Europe.Contracts worth millions of Euros will be agreed on; dozens of startup companies and projects will be funded, and Sofia and Bulgaria will again be shown to the world in the best possible way. I am proud of the teams of the Webit Foundation and the e-Academy as well as all our partners we have been working with for all these years!
What are the key topics and messages you want to address to the technology and entrepreneurial community?
I may not be eternal, but I am persistent! Through Webit and our work for Bulgaria, we have been sending out clear message to the world for 10 years. And it is: Bulgaria is the place! Come and establish your development centers; meet the entrepreneurial ecosystem and invest in Startup companies from Bulgaria and the region.
Both combined mean keeping young people and the brains of Bulgaria in the country, better opportunities for realization for all, a higher standard of living and, most importantly, the creation of the Bulgarian Dream! To prove that everyone can be world-wide without having to leave their family and friends to look for success abroad.
This is our message to Bulgaria and the region. And for 10 years we have not only been talking about it, but we proved it, too. It is proved by many who work for and in Bulgaria.
This year only Coca-Cola, Bosch, Lidl, Financial Times and several other large companies have opened their own World Development and Technology Centers in Sofia. And that's just the beginning.
Ten years ago, most people thought I was slightly mad (maybe not so slightly) when I talked about it. If you remember then a lot of people considered tech as a musical genre. But the truth is that today, if people do not think of a project of mine as madness, I do not do it at all. Only if I look crazy in the eyes of others means I'm on the right track and doing something that no one else before me in the given geographic location has done. This is one of the criteria for success for me. So the other message I share with everyone is - be crazy. Only crazy people can change the world and make it a better place!
Smart Cities, Artificial Intelligence, Cybersecurity - outline the main directions in which the world of technology will develop in the next 5-10 years. Which fields, that until recently seemed like science fiction, will be part of the everyday life of people?
Two years ago I published 10 forecasts for the next 10 years. Today, almost a third of the writing is a fact and I expect more than 80% to become a reality in the next 3-5 years. The truth is that reality has begun to overtake science fiction. The explosive development of the entrepreneurial ecosystem has unleashed the spirit of innovation.
If, 10 years ago, I was personally excited about promoting the opportunities that technology offers and creating a competitive business environment in Bulgaria and the world east of Berlin and Vienna, today I am more excited about the social impact of the change technology brings.
Ethical standards for artificial intelligence, blockchain and the future of the decentralized economy, etc. If we only look at artificial intelligence and its potential for impact on people's lives - we can speak for a very long time. Autonomous cars, robots doing everything they can, but more accurately and without getting tired and without having to sleep. In only a few decades will people's role and lives be almost completely changed. Social and public relationships that we know today will remain in the past. This change is inspiring because it will no longer be necessary to work as much as physically possible in order to have food and social benefits and perhaps so people will have much more time to create and be creative. But on the other hand it is very frightening - because no one can yet imagine this society and the life of the individual in it - whether we really pursue happiness or create a social prison in which everyone and everything is followed in which there is no personal space and freedom. China has already implemented a social assessment system where even the right to travel is the result of how much you actively participate in social life, the way you work, how your boss, friends and colleagues rate you. This is already a reality and it is frightening.
This is the reason why we are expanding our powerful community and establishing the Webit events around the world as a platform for open dialogue between politicians, business leaders, scientists and society so we can plan and continue on our journey towards a better and happier world!
Digital transformation of the business, and of our everyday life, flows on full speed. Where is Bulgaria in this process and can it take the lead?
Right now, the marketing of our country is going better than expected, but due to the fact that few people advertise Bulgaria, I'm glad Webit is playing an important role in this process. In fact, that's why my wife Aniela and I, together with our teams, invest so much time and resources in this philanthropic project. The truth is that business (except for the technological sector) in Bulgaria is slowly adjusting to the new realities. But that is not surprising. The investments that are needed to digitize a company are not small, and on the other hand our country is not famous with big local corporations.
That is why I strategically decided to fund Webit as a platform for such marketing and advertising of our country. We aim to motivate global companies to come to the country and thus to bring their knowledge, skills and processes. A Bulgarian employee in such a company today is a potential founder of a "unicorn" company (a company worth more than 1 billion euro) tomorrow. The outcoming of these companies means raising the standard of living, but above all it means training people for the future.
In the era of technology, personal data has become the new gold, and their protection is a primary task. How do you see the balance between technological advancement and the individual's integrity?
Every year I speak at more than 20 world events - from Russia (Prime Minister Medvedev's Open Innovations), through Austria with Chancellor Kurtz, Germany, Great Britain, Luxembourg to Seoul ... everywhere I go I begin my talk by saying I think in exchange for the technological progress to happen, we give out our personal data, thus our personal space is shrinking.
I believe the time has come to stop paying with our personal data and to start a new era of trust. It is the exchange of trust to generate real economic benefits. But the topic is long and I am ready to discuss it in a separate conversation. This is the reason why I join the initiative set up by the European Parliament, which is managed by the European Commission - Blockchain Observatory and Forum. I felt particularly proud when I was chosen to be among the 30 world experts, members of this forum for Europe.
You also support many startup entrepreneurs. At each congress, the Founder Games contest awards a Startup company with € 200,000. What do you want to teach the future entrepreneurs?
Every year, Webit supports startup companies with over one million euro by providing grants - free stands, tickets, meeting with investors, media, and potential partners from the top managerial level of global companies. The last three are practically invaluable, because very few global communities like Webit can do. This year more than 3000 companies from all over Europe have applied for the chance to be selected among Webit entrepreneurs. With the help of a worldwide jury of investors, we chose the best and you will be able to see them at the Startup expo and hear them present at the startup scene. I invite every business in Bulgaria to come and listen to these presentations to see how its industry is changing. The selected companies cover a variety of areas - security, health, energy, commerce, financial technology, smart cities, transport and dozens of others.
This year, you are also starting the Webit.X initiative for students. What will young people see from the future want to show them?
The students are the future of Bulgaria, and they will create it. Their life today is very complex. On one hand, their parents struggle with this social and technological transformation, and very few of them understand it; on the other hand, the clash of morale our society has been experiencing through all these years of transition (not without the help of the media) a distorted and ugly reality. We owe one to the future. We owe it to these young people.
I believe the only way we can reimburse them is to get their dreams back. To create a nation of dreamers who dream of galactic travel, spacecraft, flying cars, flying people, humanoid robots ... All of this already exists, and we will tell them about it and show them. This, I believe, will unlock new dreams, and so the children of Bulgaria will become their creators, and then they will realize them. Only with dreams our country can take a worthy leadership position in the future!
I thank the Minister of Education and Science, and the Minister of Youth and Sports, the President of the Rectors' Council, who became partners of the project.
I do not think that anybody in Europe has ever invested and implemented such a massive initiative to inspire and stimulate young people, presenting to them achievements, to which only selected - among the richest or those who work in this field - have access.
Source: Economic.bg
TheMayor.EU stands against fake news and disinformation. If you encounter such texts and materials online, contact us at info@themayor.eu