Plock wants to develop public transport based on hydrogen
The Polish municipality and PKN ORLEN officially declared their willingness to cooperate on the new technology
January 31, 2020 14:30
Aseniya Dimitrova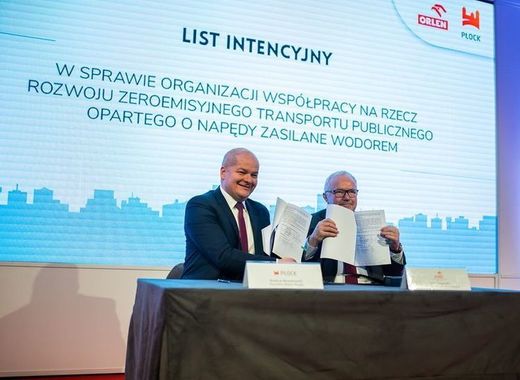 Source: Plock and PKN ORLEN will be cooperating on public transport powered on hydrogen/ City of Plock
The municipality of Plock and Orlen, a leader on the fuel market in Central Europe, will be cooperating on the development of zero-emission public transport, powered by hydrogen. In a press release, Orlen group announced the signing of a letter of intent between the company and the Polish municipality on Wednesday. Hydrogen refuelling infrastructure in Płock, intended for public transport vehicles and public services, is expected to become a reality as part of this cooperation.
Hydrogen – alternative zero-emission transport fuel
The strategy of PKN ORLEN paves the way for working on the development of alternative fuels in transport. Currently, the ORLEN Group produces about 45 tonnes of hydrogen per hour, most of which is used for the needs of production processes. The concern has already started the implementation of a hydrogen purification installation, which from 2021 will allow the introduction of this fuel on the market. PKN ORLEN is also developing technology necessary for the storing, transporting and distributing hydrogen fuel.
"We are aware that the importance of conventional drives in transport will decrease, which is why our strategy also provides for the development of alternative fuels. Hydrogen, thanks to its range and the large mass it is able to propel, is a particularly promising fuel in the context of public transport. The agreement with the city of Płock is another step that brings us closer to the commercial implementation of this technology in Poland... Last year, similar letters of intent were signed with Upper Silesian Metropolitan Area and the PESA Bydgoszcz company n the near future we intend to communicate with other local governments", said Józef Węgrecki, Member of the PKN ORLEN Management Board for Operations.
New transport technologies in Plock
"Hydrogen fuel is the future of automotive industry. In the interests of the environment, clean air and the health of residents, we want to take advantage of the opportunities offered by new technologies in Płock. I am glad that PKN ORLEN responded positively to my initiative and today we signed the Letter of intent on the organisation of cooperation for the development of zero-emission public transport based on hydrogen-powered drives.

I hope that in Płock there can be a pilot program with stations for refuel and public transport vehicles with hydrogen. I hope for further joint actions of the local government and the concern in the area of ecology which bring tangible benefits for the residents of Plock", shared Mayor Andrzej Nowakowski on Facebook.
In accordance with the regulations, local governments in Poland will be obliged to consistently increase the share of zero-emission vehicles in the public service fleet, reads also the press release. Hydrogen fuels in Poland are currently mainly in the testing phase, but after the implementation of technical and legislative solutions, they are likely to become a significant complement to the energy mix in heavy transport.
TheMayor.EU stands against fake news and disinformation. If you encounter such texts and materials online, contact us at info@themayor.eu