Polish cities race for the title of country's Cycling Capital
You can compete for your favourite Polish city, regardless of your current residence
September 02, 2020 19:30
Aseniya Dimitrova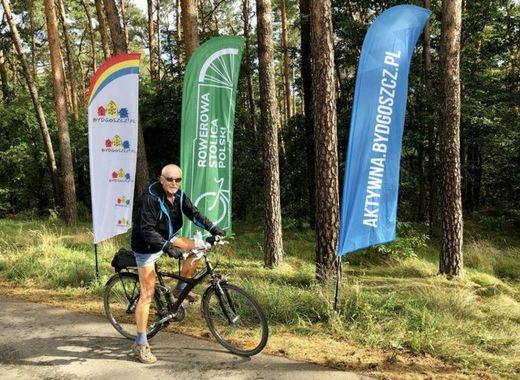 Source: Municipality of Bydgoszcz
The second edition of the nationwide competition for the Polish cycling capital has just begun. Over the course of 30 days, 43 cities will be competing in the prestigious sports event. It is still possible to support your city by riding a few kilometres for the team, regardless of your current place of residence.
Higher interest in the cycling competition
The start of the second edition of the Cup of the Cycling capital of Poland (Rowerowa Stolica Polski) took place on 1 September with the competition continuing until the end of the month. Over this period, participants from 43 Polish cities will compete for their team by simply riding a bike and accounting kilometres on a special mobile application.
It is possible for anyone to join, no matter if they live in one of the participating cities or not – they can simply download the free app and select which team they want to compete for. From that point on, it is just about enjoying frequent bike rides.
As per the rules, the team results are counted by dividing the total number of kilometres per city by the number of inhabitants. This way, even the smallest cities stand a fair chance of winning, as long as there are motivated members of their team.
In fact, this is precisely what happened last year, when the competition was won by Nowa Sól, the smallest of the cities that took part in the first edition of the game. However, in 2020 the competition promises to be fiercer, as there are twice as many teams participating.
For the most part, riders will participate individually – through their daily commutes or occasional rides. In order to keep the collective spirits high, however, some of the teams have arranged collective starts throughout September. Details of these rides can normally be seen on the municipalities' websites.
According to the competition's website, this year there was also a summer city training session which involved 5,000 active users who travelled 1.3 million kilometres.
Finally, the winning cities will receive prizes such as bike repair stations and individual prizes to the highest achievers or those who reach a particular milestone. In the Bydgoszcz Metropolis, which is the event organiser, there will be small items for everyone who travels 300, 500 and 1000 km as well as vouchers for the three participants that place first, both men and women.
TheMayor.EU stands against fake news and disinformation. If you encounter such texts and materials online, contact us at info@themayor.eu