Available in:
Share article
Polish city fights the summer heat with water curtains
Piekary Śląskie takes care of those who absolutely need to go outside amid the record heat
August 14, 2020 14:30
Aseniya Dimitrova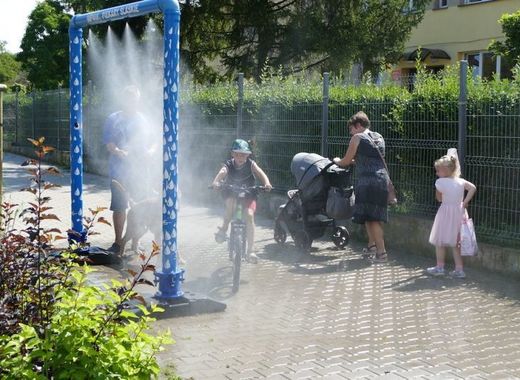 Source: City of Piekary Śląskie
As Europe braces for record-breaking temperatures, cities are on the lookout for inventive solutions to keep active citizens protected and hydrated. An interesting approach was adopted by Piekary Śląskie (southern Poland), which earlier this week installed the so-called "water curtains" at several locations within its territory.
Simple but effective solutions for the EU cities
The expected local temperatures in the upcoming days will be close to 30 degrees Celsius in the shade, explain the local authorities of Piekary Śląskie, so citizens need to be extra vigilant. However, with many people still obligated to go to work in person, and with it being impossible to keep children indoors all the time, something needs to be done to guarantee everyone's comfort.
And that is precisely what motivated the Silesian city to adapt to the new circumstances with innovative albeit simple infrastructure. The water curtains were placed at the Bus Station in the Wieczorka Estate, at Bytomska street near Kalwaria, at Oświęcimska str (at the "Andaluzja" Cultural Centre), at Skłodowskiej-Curie str. (between the nursery and the kindergarten) and Nobelów Śląskich Square, at Bytom street.
These devices are tall enough to allow for a grown-up to pass below them and get sprayed by some cold water. Passing under the curtain will certainly keep one refreshed for the next few minutes, without the risk of seriously spoiling their outfits. Furthermore, this water can prove lifesaving for stray animals, too.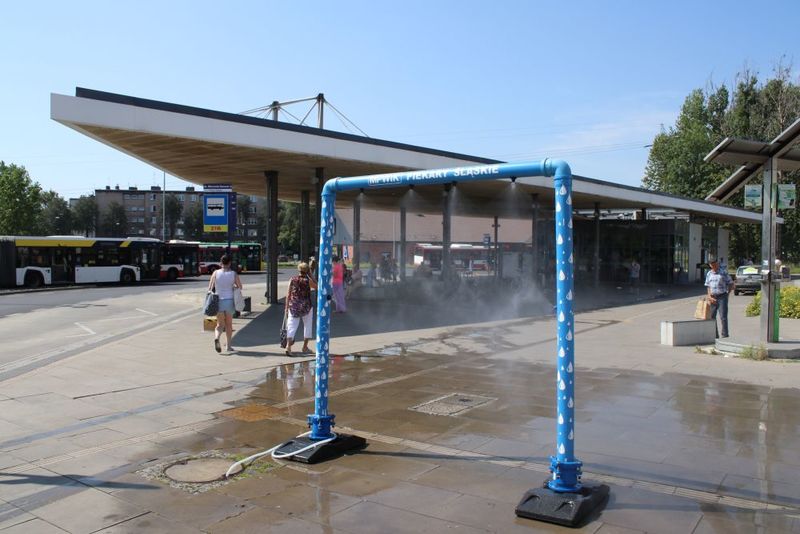 Waiting at public transport stops can often take much longer than expected. The new water curtains of Piekary Śląskie can prove essential in protecting the public transport users in these situations. Photo: City of Piekary Śląskie
On top of the new urban furniture, the authorities of Piekary Śląskie remind the basic principles to protect oneself from a sunstroke. Not only is it essential to limit your stay in the sunny, open areas in the afternoon hours, but to also wear headgear that protects your face and head from excessive heat, to wear loose, light-coloured clothes that cover as much of the body as possible, to drink water regularly and to avoid drinking alcohol.
Seniors and people with cardiovascular diseases should reduce their trips outside as much as possible, especially between 10am and 3pm. Dogs should not be taken out for walks in hot weather (11:00 - 17:00) either and they must never be left alone in a closed car, even for a few minutes.
TheMayor.EU stands against fake news and disinformation. If you encounter such texts and materials online, contact us at info@themayor.eu