Pre-departure center for migrants to be built on Lesvos island
It will be a temporary home to approximately 7,000 people
December 05, 2019 19:30
Monika Dimitrova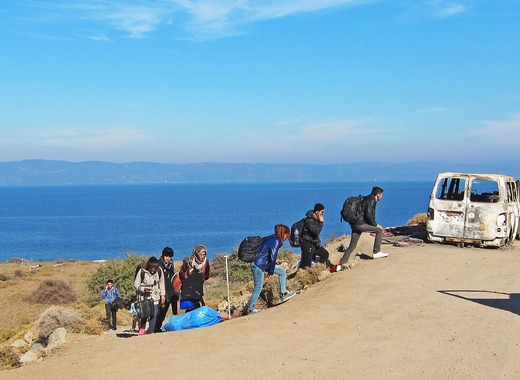 The Greek government is planning to establish a pre-departure center for migrants and refugees on the island of Lesvos inside a forest fire zone. The structure will be temporary home to approximately 7,000 people. The construction work is expected to start as soon as possible.
According to local media, the place chosen for the center is Diavolorema (Devil's river), 2.5 kilometres from the Mytilene-Kalloni road, in the dense and fire-prone forest of central Lesvos, near a landfill.
The location was confirmed by Alkibiades Stephanis, Greek Deputy Minister of National Defense in charge of migration, during a meeting with local authorities and regional officials. At the end of the event all officials went to visit the site.
The construction of the center has already been assigned to a big construction company in Athens. The migrants center is expected to be functional next June.
Five Aegean mayors resist the plans of the government
Meanwhile, five Aegean mayors have stated their resistence to the plans of the Greek government to create similar structures on the nation's islands. The mayors complain that they were not informed in advance about the establishment of the new facilities. The mayors of East Samos, George Stantzos, of Kos, Theodosis Nikitaras, of Leros, Michael Kolias, of Lesvos Stratis Kytelis and of Chios, Stamatios Karmantzis issued a joint statement against the plans of the government.
They are asking for the support of their counterparts all over Greece, "in the difficult times our islands are going through", adding that "united and all together, we will address this important issue of security and prosperity."
On the island of Chios, a similar closed center will be built on a public land, 15 km away from the national road Chios-Volissos. According to local media, the area is particularly unwelcoming.
TheMayor.EU stands against fake news and disinformation. If you encounter such texts and materials online, contact us at info@themayor.eu