Prohibited items Christmas tree arranged at Vilnius Airport
The eccentric sculpture has a serious message for passengers to take home
December 13, 2019 16:00
Plamen Petrov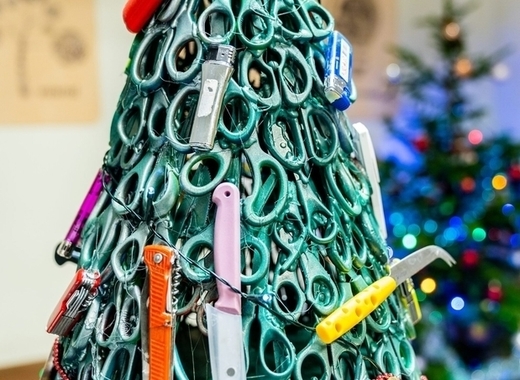 Source: Martynas Jaugelavicius, Lithuanian Airports
Christmas trees are not what they used to be. Natural or artificial, traditional or modern, artistic or bizarre, they allow their creators to unleash their fantasy and, sometimes, convey a message.
Some of the examples are jaw-dropping. A shopping mall in Shenyang, China has decorated its 12-metre-tall Christmas tree with 230 bicycles.
Passengers at St Pancras International Station in London have stared in awe at a 12.2 metres high Christmas tree made of 600,000 plastic Lego bricks.
Seasoned travelers, however, admit that have never seen a Christmas tree like the one installed at Vilnius Airport this December.
It is just 1.5m high but is skillfully arranged with items we don't usually hang on Christmas trees - green scissors for branches, a variety of knives, bullets, cigarette lighters and a fake gun as decorations. A star made of cheese knives shines on top.
Tree with a message
This installation may look quirky to some and sinister to others. In fact, it is entirely composed of prohibited items that passengers are not allowed to pack in their luggage and have been confiscated at the airport. So, the Vilnius Airport Christmas tree has a serious message behind its scary exterior.
A spokesman for aviation security at Vilnius Airport has put it bluntly, saying, "If you don't want your personal, yet prohibited belongings to land on next year's Christmas tree – you better check out the baggage requirements before you pack for your next flight."
As the passenger flow through Vilnius Airport increases, this is an issue that aviation authorities cannot turn a blind eye on.
The Lithuanian capital was named the cheapest European city break, at least for British tourists, in the Post Office's 2019 City Costs Barometer report. In this ranking Vilnius came on top of 48 cities across the continent.
TheMayor.EU stands against fake news and disinformation. If you encounter such texts and materials online, contact us at info@themayor.eu