Available in:
Share article
Project helps Lulea residents adopt sustainable lifestyle
A digital platform provides citizens with practical guidelines for reducing their climate impact
May 13, 2020 13:00
TheMayor.EU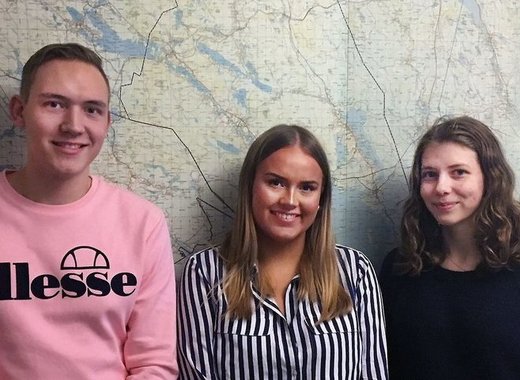 Source: The initiators of KLLÅ: Sebastian Landin Olsson, 19, Ebba Svonni, 20 and Amanda Lundbäck, 19. Photo vartlulea.se
Ebba, Sebastian and Amanda are young, Swedish and climate-centered, but no, they do not want to emulate Greta Thunberg. The three Luleå residents and project partners have set themselves a more modest task instead – helping their fellow citizens change to a more sustainable lifestyle based on their own conditions.
To this end, the trio with a combined age of 58 has conceived the project kLÅ - Klimatsmart Luleå. Partially financed through the social investment funds of Luleå municipality, the project has had a digital focus from the beginning, something that is becoming increasingly relevant in the corona crisis.
"Our goal is to create an easily accessible guide to a more sustainable everyday life, with a local perspective. The best way to be easily accessible in today's society is to be digital, which is why we are building a digital platform," Ebba Svonni, Editor-in-chief of the project, tells the municipal website.
Launch of website expected later in May
Work on the project started in December 2019 and continued during the pandemic, but hurdles had to be overcome and the launch date for the website was postponed, now set for the end of May. Although Sweden has the most liberal regime of restrictions, physical meetings, for example, had to be transferred online and limited to the project's internal management. The project, which already enjoys a warm response on Instagram, takes place in collaboration with the city building administration and the Nature Conservation Association.
The project group wants to provide practical help for Luleå residents to reduce their climate impact. Initiators want to do it without contributing to the climate anxiety or making people feel ashamed, as finger-pointing can have the opposite effect.
"We know that we need to change our ways of living now to be able to adopt a more sustainable lifestyle for the sake of our planet, but we are well aware that living conditions are different for everyone. Therefore, we want to help Luleå residents adapt in a sustainable way, based on their own circumstances," Ebba Svonni points out.
Serious but separate crises
Asked what the group's vision for Luleå is after the corona crisis, Ebba Svonni says she hopes people will think more carefully before acting. And she gives Venice, where wildlife has returned, as an example of how humans affect the environment.
But the kLÅ team is careful to make clear that the climate and the corona crises are not intertwined. The coronavirus pandemic is a separate and tragic crisis and we do not want to score cheap points being happy that the climate can feel better at the expense of people's suffering, says Ebba Svonni.
TheMayor.EU stands against fake news and disinformation. If you encounter such texts and materials online, contact us at info@themayor.eu