Puppet offers photo ops to Kaunas theatre-goers
The bronze and granite sculpture is the 41st addition to the street gallery of "Kaunas Accents"
September 01, 2020 18:30
TheMayor.EU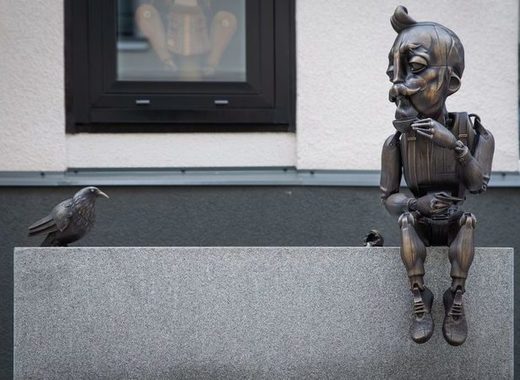 Source: kaunas.lt
From the beginning of this week, a seated human puppet with a face not unlike the image of Don Quixote (or his creator Cervantes) welcomes visitors and passers-by of the Kaunas State Puppet Theatre. This sculpture is the latest addition to the acclaimed open-air art gallery of Lithuania's second largest city, created during the ongoing competition of ideas "Kauno akcentai" (Kaunas Accents).
A new city legend
"The new interesting work at the Puppet Theatre not only attracts curious glances of passers-by, but also in a way marks the renewal of the theatre, the opening of a new season after the reconstruction of the building. It is gratifying to see how cultural institutions in Kaunas are becoming more beautiful, more modern and more cozy for visitors," says Simonas Kairys, adviser to the Mayor, quoted by the municipal website.
Cast from bronze and gray granite, the new sculpture by artist Lukas Šiupšinskas depicts a live puppet of a puppet theatre sitting on a bench with a cup of coffee and a croissant during his lunch break. "The character is like an employee of a puppet theatre, who does not depict a specific personage in a fairy tale or a performance but creates a new legend of Kaunas. The sculpture comes to life and a subplot is set in motion by a crow landing nearby and attacking the croissant. According to the logic of the work, the bird is also like a doll, not a realistic animal," explains the sculptor.
"We notice a tendency that people like to take photos with Accents that adorn the city, even hunt for them. And it only shows that art in the city streets is not only beautiful, but also alive," added the mayor's adviser. Aware of this hobby, the author L. Šiupšinskas left a place on the bench next to the puppet for those who want to get in the frame.
A unique contest of ideas
"The Puppet and the Crow" is not the first work of L. Šiupšinskas to supplement the growing collection of "Kauno akcentai". His "Pine Cone Man", located in Santaka Park, is getting a lot of attention from Kaunas residents and guests of the city.
"Kauno akcentai" is a competition of ideas that has no analogue in Lithuania. It welcomes projects for sculptures, design objects, light installations, lighting, street painting or other areas of art - contemporary art or reflections of the city history. Entries are evaluated by a commission of experts and the approved projects are fully financed by Kaunas City Municipality, which invites artists to implement them in various spaces of the city.
Since the start of the programme four years ago, 41 accents have dotted the cityscape of Kaunas. More information about the competition can be found at its dedicated website.
TheMayor.EU stands against fake news and disinformation. If you encounter such texts and materials online, contact us at info@themayor.eu