Rae municipality mulls introducing driverless buses
The autonomous vehicles can be used to transport pupils to schools or foodstuffs to catering establishments
August 28, 2020 15:00
TheMayor.EU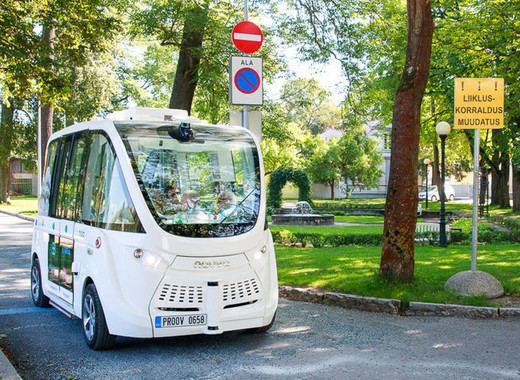 Source: Siim Lõvi /ERR
Heralded as the future of public transport, self-driving vehicles are steadily making their way in the cities of today. The municipality of Rae which is located to the south of Estonia's capital Tallinn may become the next one to introduce this autonomous means of transportation.
In anticipation of the Ülemiste-Jüri tram line
Judging from a municipal press release, Rae is considering the introduction of driverless buses as one of several options to stimulate the use of public transport and reduce daily commuting by its residents to Tallinn by car. Alleviation of car traffic will be gradual, reaching its climax with the planned tram line from Tallinn Airport to the small town of Jüri. The municipal authorities have recently announced a public tender to chart the best feasible route for the Ülemiste-Jüri tram line.
The possible introduction of driverless buses in Rae municipality was discussed earlier this week by mayor Madis Sarik and deputy mayor Priit Põldmäe with representatives of the company Modern Mobility.
"Rae municipality wants to offer its residents the best mobility service, in order to make transport more accessible to the people and more efficient for the organizer. We want to be the first municipality to take into use driverless buses.
The first pilot project could be launched in the rapidly developing and growing village of Peetri, where we could use this option, for instance, for the transportation of pupils from one school or hobby school to another," said Sarik during the meeting, quoted by ERR.
Apart from short-distance transportation of people, the self-driving buses could also be used for the transportation of foodstuffs from food providers to businesses and catering establishments which lack their own facilities for the preparation of food, the mayor observed.
Single intercommunicating bus system
Tanel Talve, head of on-demand mobility at Modern Mobility, painted a futuristic picture of smart bus stops linking up self-driving buses and ordinary buses into a single intercommunicating system. Passengers waiting at a bus stop would be able to book a ride using the hi-tech bus stop screen or their own smartphone app. Outside of peak hours, buses would run on-demand only, instead of constantly operating along the same route.
Talve sees a place for his company's buses even after the implementation of Rae municipality's pet project. "Also with the planned Ülemiste-Jüri tram route, the transportation of passengers to the tram stops from more remote regions would be handled with micro buses operating on an on-demand platform," Talve was quoted by ERR as saying.
TheMayor.EU stands against fake news and disinformation. If you encounter such texts and materials online, contact us at info@themayor.eu