Available in:
Share article
Responsible driving rewarded with prizes in the Hague
The first speedometer money box has been operating in the Dutch city since last week
February 26, 2020 19:30
Aseniya Dimitrova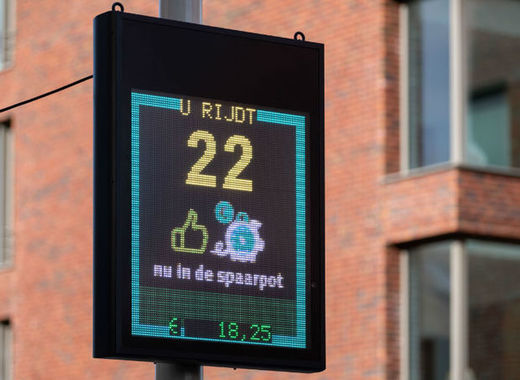 Source: Speedometer. Photo by Arnaud Roelofsz / City of the Hague
The problem with drivers exceeding the speed limits in cities is as old as the cars themselves. Much has been done to deter drivers from trespassing, starting from penalizing measures, through solutions aiming to raise drivers awareness like 3D crosswalks or even smart pedestrian crosswalks. Yet the problem remains.
Respectively, so does the question of how to protect roads from overspeeding. Luckily, some cities have come up with ingenious solutions to this challenge. With a system based on rewards, instead of sanctions, they take into consideration what behavioural psychologists have long been aware of.
Behavioural psychology to the rescue
They know that stimulating good conduct can have a strong motivational force and sometimes overpower the deterring effects of punishment. Here is why the Hague became yet another city in the Netherlands to install a speedometer money box.
The first such box has been operating since 19 February in Kranenburgweg, a zone where drivers have a tendency to drive too fast. For every driver who respects the maximum speed of 30 kilometres per hour, a small amount goes into the digital money box.
The saved amount is given to the residents to be spent on a goal they have chosen, for example, more greenery in the neighbourhood. The box will stay for a period of five weeks and another similar tool will be installed later in 2020.
Real results in road safety
With the speedometer money box, the municipality of the Hague wants to increase road safety just like other places in the country have already done. Where the money box has been in operation, it has resulted in 25% fewer overspeeding drivers, calculate the local authorities.
The speed limit in the Hague has been set at 30 kilometres per hour for residential areas, or in 110 of the 120 neighbourhoods. Accordingly, on roads important for the accessibility of the city the limit is 50 kilometres per hour.
Speed displays have been one of the ways to show drivers in real-time if they respect the limits. However, the municipality explains that the displays have only a temporary effect, as the drivers return to fast driving shortly afterwards. Here is why they are being relocated every month to a different place.
TheMayor.EU stands against fake news and disinformation. If you encounter such texts and materials online, contact us at info@themayor.eu