Available in:
Share article
Rooftop greenhouses cut 54 tons of CO2 emissions per year
GROOF is an innovative EU-funded project implemented in four countries
April 17, 2020 14:30
Aseniya Dimitrova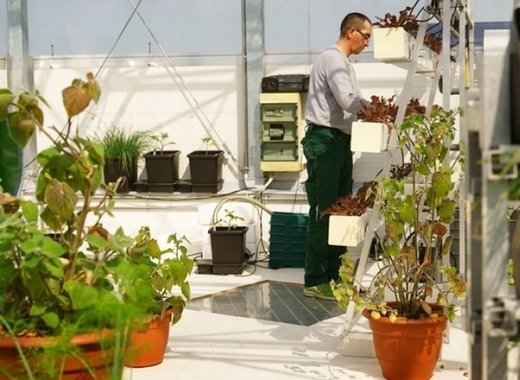 Source: GROOF project / InvestEU
An innovative project aiming to cut carbon emissions by combining energy-saving and local food production is currently being implemented in North-Western Europe. GROOF will construct rooftop greenhouses on the top of four buildings in Luxembourg, Belgium, France and Germany.
The project partners expect annual savings of no less than 54 tons of CO2 each year. As an added bonus, there will be a significant increase in the production of fresh produce of vegetables and herbs.
About GROOF
The GROOF (short for Greenhouses to reduce CO² on Roofs) project wants to use the rooftop greenhouses as a tool to:
Recover actively (use of the ventilation system) and passively (insulation effect) the heat produced and otherwise lost by the support building in a horticultural production installed in a rooftop greenhouse,
Collect the CO² produced by human activity and the activities of the support building to feed the plants.
The project wants to demonstrate the usefulness of this type of greenhouses and facilitate its market-readiness. This includes identification and reduction of barriers to market access, provision of expert support to the first 10 entrepreneurs who will implement the project and finally – experimenting and demonstrating that the technology can work for a number of businesses and social models.
For this purpose, four pilot projects, designed to prove the effectiveness and sustainability of models related to different types of buildings are being implemented in France, Belgium, Luxembourg and Germany. The results will be shared with the international community, comprising of regional and national public authorities, SMEs, larger enterprises, research centres and members of the general public.
GROOF project: Greenhouses to reduce CO² on Roofs will run between 2017 and 2020
The Team
GROOF is coordinated by the CDEC (Conseil pour le Développement Economique de la Construction) and carried out by another 10 partners from Luxembourg, France, Belgium, Germany and Spain.
The partners have an important role at different stages of the implementation, according to their expertise – from construction process and methodology, building energy management, urban agriculture development, knowledge of plants and cropping systems, to entrepreneurial skills, socio-economic skills, etc.
Support from the European Union
Finally, likely the biggest supporter of the innovative initiative is the European Union itself: through its Interreg Nord-West Europe programme, the EU covers 60% of the total project cost of EUR 4.9 million.
TheMayor.EU stands against fake news and disinformation. If you encounter such texts and materials online, contact us at info@themayor.eu