Santa Claus met Grandfather Frost in Narva
The annual event supports border crossing cooperation between agencies and municipal authorities in Estonia and Russia
December 19, 2019 18:30
Plamen Petrov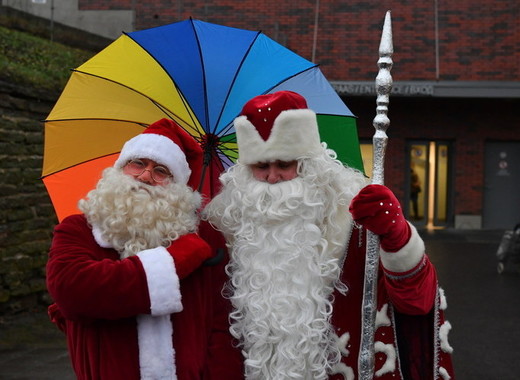 Source: Sergei Stepanov/ERR
On the outside, they look just like twins, yet they belong to different historical and cultural traditions. Nevertheless, Estonia's Santa Claus and his Russian counterpart Ded Moroz, known internationally as Grandfather Frost, did not skip their annual meeting in the Northeastern Estonian border city of Narva.
The two venerable old men wished residents of Narva and the adjacent border city of Ivangorod a Merry Christmas and a Happy New Year. This provided many opportunities for residents to supplement their family albums with memorable pictures.
Afterwards, as ERR public broadcaster reported, the two iconic holiday figures met with municipal leaders from both cities, located on both sides of the Narva River, attended a news conference, and visited a kindergarten and Narva Ice Hall.
The annual holiday get-together is arranged by Russia's Federal Customs Service in partnership with the Association of Estonian International Road Carriers (ERAA). The event aims to support the cooperation between agencies and municipal authorities in facilitating and expediting border crossings.
Russians celebrate two New Years
In Russia the New Year precedes Christmas, which falls on January 7, so it is no surprise that New Year celebrations there are more widely observed and more vigorous. Moreover, in Soviet times celebrating Christmas was actively discouraged by the authorities as an event promoting "subversive Western values". To complicate matters further, Russians in fact have two New Years to celebrate: one on January 1 with the rest of the world and another, called Old New Year, on January 14. This discrepancy was the result of Russia switching from the Julian calendar (still recognized by the Orthodox Church) to the Gregorian calendar, which is followed by the Western world.
What Westerners know as a Christmas Tree is called a New Year's Tree in Russia, where it is typically left up in honor of both holidays. On New Year's Eve the Russian Santa, or Ded Moroz (Grandfather Frost) and his eye-catching female companion Snegurochka visit children to pass out gifts.
The Old New Year (Старый Новый год) on January 14 is usually spent with close relatives and is more low-key than the New Year celebrated on January 1. Families would gather around the table for a large meal, sing carols and tell fortunes.
TheMayor.EU stands against fake news and disinformation. If you encounter such texts and materials online, contact us at info@themayor.eu