Skating with a view in Budapest
The Hungarian capital boasts Europe's largest outdoor ice rink and a small one, perched on top of a hotel
November 24, 2019 15:00
Plamen Petrov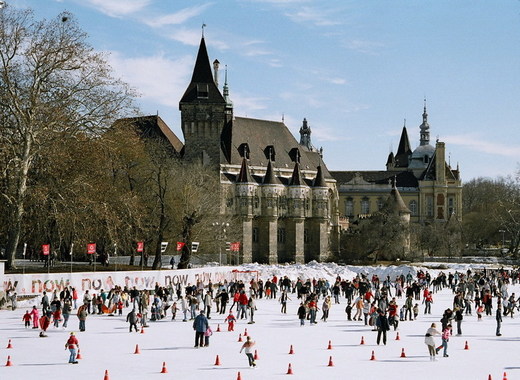 Source: Themightyquill on Wikipedia under CC BY-SA 2.5
Budapest has a myriad of things to offer visitors for Christmas. For those keen in winter sports, the absence of a ski resort nearby may prove disappointing, but skating comes as a second-best option.
And speaking of skating, nothing can beat Varosligeti Mujegpalya, the huge and extremely popular outdoor ice rink in the City Park (aka Varosliget park). It is the largest (12,000 square metres) and one of the oldest ice rinks in Europe, (opened in 1870).
In summer this spot is just an ordinary boating lake, but in winter it is magically transfigured into a hip venue for skating, skiing, parties and more. A skating school takes care of first timers. The skating venue underwent a complete renovation ten years ago, and the main building was restored to its 19th-century look.
It is no surprise that Lonely Planet travel guide put Varosligeti Mujegpalya on its top 10 list as one of the best places in Europe in wintertime, paired with a hot dip in the Budapest baths and a crawl around the retro ruin bars in the Jewish quarter.
Opening hours of the City Park skating rink may vary in winter, so keep checking the Varosligeti Mujegpalya page for information.
See Budapest from above while skating
Varosligeti Mujegpalya may be unbeatable in terms of size and popularity, but it cannot offer a 360-degree panorama of Budapest's attractions such as St. Stephen's Basilica, the Parliament, the Buda Castle and the Citadel. And this is exactly what the Intermezzo Ice Terrace, perched on top of the 4-star Hotel President can do, thanks to the hotel's central location in the 5th district of Budapest.
The rooftop skating rink reopened on 18 November after the facility registered nearly 10 000 visits last year. Its 110 sq metre large "ice surface" is made of synthetic environment-friendly polymers, which soften the fall and lower the risk of injury, according to the hotel management. True, tickets are priced higher, but guests can order their preferred food and beverages – including mulled wine, grog and grilled sausages – in special ski huts around the rink, buoyed by DJs live sets.
Strolling around the Budapest Christmas Markets, you can come across smaller artificial skating rinks, like the one at St Stephen's Basilica in the city center (200 sq metre), and in Obuda district on the Buda side.
Do you feel the ice fever already? Don't wait – unlike skiing equipment, a pair of skates will not eat your luggage space, and besides, you can rent them on the spot.
Like the article? Subscribe to our newsletter to receive the latest from the EU cities right into your inbox.