Stefan Radev: Sliven has a rich history and great potential for development in the future
We talk with the Mayor of Sliven about implemented projects, plans for an industrial park, tourism prospects and the "merger" with Yambol
February 05, 2020 10:30
Plamen Petrov
Source: Sliven Municipality
Stefan Radev was born on September 6, 1972 in Sliven. With a university education in Economics and Industrial Management and a master's in accounting, he has worked in the private sector as the CEO and CFO of a large company and as auditor in the financial sphere. In 2015, Stefan Radev was elected mayor of Sliven. He was reelected for a second term in 2019.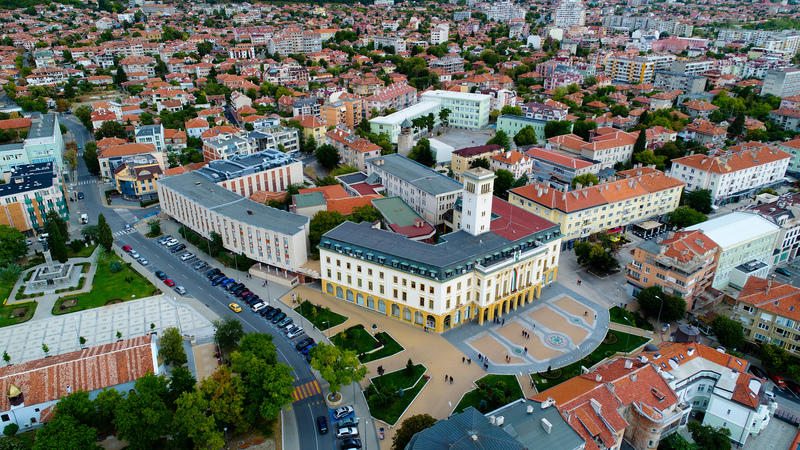 Aerial view of Sliven. Photo by Sliven Municipality
Mr Radev, almost 65 percent of Sliven voters supported your second mandate at the October 2019 local elections' run-off. What were your achievements during your first term as mayor that helped you earn their confidence again?
I think the citizens of Sliven trusted our team for a lot of things. Sliven was in a very difficult financial state and our main task during my first term in office was to stabilize the budget. Although it was not easy, I think that most of our fellow citizens understood what the challenge was and what difficulties the municipality had to overcome. I think that when a person talks frankly about problems with people, they will understand. In fact, the united actions of all of us have allowed us to overcome this crisis.
At the same time, we were able to carry out major projects that had been talked about for years in our municipality with no apparent progress - in terms of transport, the communications scheme, the refinement of the neighborhoods. We also caught up with the housing rehabilitation program. I take this opportunity to thank our fellow citizens for their support.
Sliven prides itself on its industrial traditions - from the production of rifles and tools in the 17th century to textile factories and distilleries in the 19th century and machine building, peaches and the unique "Sliven Pearl" brandy under socialism. What is the economic picture in the Municipality today?
Overall, Bulgaria's economy is doing well. Sliven's economy is also doing well. This can be deduced from the record low unemployment rates in the municipality at the moment. If we take the reduction of unemployment and the increase of jobs to be the first stage, in my opinion it is time for a qualitative change - ie. not so much to increase jobs, but to create better paying jobs.
Our efforts are in this direction, as well as our plans for construction of an industrial park near Sliven. Our joint actions with the Municipality of Yambol to represent the two regions as a single economic entity with which to attract the attention of investors, are in the same direction. In addition to its rich history, Sliven has great potential for future development.
Tourism accounts for between 11 and 13 percent of Bulgaria's GDP, which is largely due to the efforts of the people in the municipalities. What types of tourism does the Municipality of Sliven develop?
Sliven is a city with rich culture, rich history and beautiful nature. It is mostly known, of course, for its Revival period traditions and for being the cradle of industrial production in Bulgaria. Logically - cultural tourism is one of the most attractive types for our city. Therefore, we intend to invest in our museums: in the houses-museums of Dobri Chintulov, of Sliven lifestyle, Dobri Zhelyazkov's factory - the first textile factory in Bulgaria, among others.
In addition, Sliven has an easily accessible and beautiful mountain. The Sinite Kamani (Blue Stones) Nature Park is located next to the town and is one of the favorite places of people not only in Sliven, but in the whole of Eastern Bulgaria. We have a project to renovate the cable car that leads to Karandila - a favorite destination for tourists.
In the past, the Sliven Mineral Baths was a famous spa resort, it has a potential that we do not utilize fully. I am convinced that there is a bright future ahead of spa-tourism in Sliven.
You have applied for a project under the Operational Program "Regions in Growth" to build two crisis centers - for victims of domestic violence and for the temporary housing of homeless people. What are the other key European funded projects that the Municipality will implement in 2020?
I have already mentioned our intention to invest in tourism infrastructure, but the biggest projects to come are related to the environment. First of all, this is the big project to overhaul the water supply and sewage infrastructure, putting into operation the drinking water treatment plant. We have been working on this project for three years and in 2020 the actual work will begin.
We continue to invest in transport through the implementation of another environmental project. New trolleybuses and electric buses in Sliven are being procured, in line with fulfilling our policy of improving the transport infrastructure and maintaining a high environmental standard.
In addition to being the City of the 100 Voivodes, Sliven is also known as a town with strong winds. Tell us about the wind farms in the municipality. Are they effective? Do they create environmental problems?
We have no information on specific problems created by wind farms. In general, there are many wind generators established in the territory of Sliven Municipality. In addition, large photovoltaic parks have been built. The interest in renewable energy production continues to be high. I'm glad there is such an interest and we as a municipality support clean energy production.
Do you have affiliate programs with other municipalities in Bulgaria and the EU?
We have a common initiative with the Municipality of Yambol to represent the two municipalities as one region. It is very important to highlight our intention and the commitment of the Minister of Regional Development and Public Works to widen the road between Sliven and Yambol so as to become a 4-lane. The next programming period will address this issue, which would allow the two cities to actually work as one big city.
We are looking for partnerships with other cities in the European Union. Last year, we held a major economic forum in Sliven, together with Nis (Serbia) and Bydgoszcz (Poland). Bydgoszcz is a city that Sliven had relations with even before the democratic changes. We hope that this relationship will be deepened, we will exchange good practices and experience with the well-developed cities of Nis and Bydgoszcz.
Which is your favorite place in the city?
Many places in Sliven are my favorite. As with all people with kids, I enjoy walking in the city parks. Like all Slivnalyans, I am nursed with love for the mountain and for Karandila.
Does Sliven have its well-kept secrets that are not to be found on travel books?
I am not sure if your readers know that Sliven has one of the richest collections of works of art in Bulgaria. I am sure that everyone can find something for themselves in the art galleries of Sliven.
It is a curious fact that in the beginning of the 20th century Sliven was the city with the most millionaires per capita in Bulgaria due to the rapid development of the textile industry then, which continues to be the backbone of the Sliven industry to this day. At that time, this industry was booming in Europe, and Sliven was the capital of textile production. Today the houses of the Sliven industrialists of that time are still there for you to see.
TheMayor.EU stands against fake news and disinformation. If you encounter such texts and materials online, contact us at info@themayor.eu