Student democracy awarded historical heritage status in Coimbra
In a city with strong academic traditions, student republics have existed for 7 centuries
November 10, 2020 18:30
Tzvetozar Vincent Iolov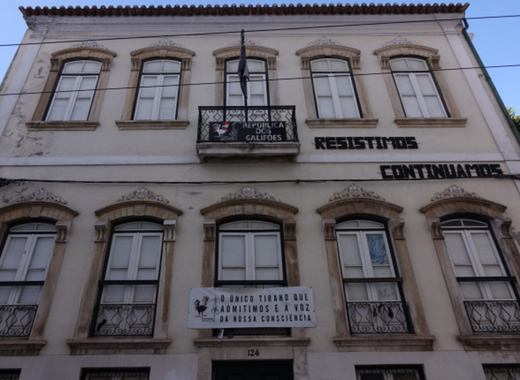 Source: Municipality of Coimbra
Is student life just a few years of cramming for exams and partying hard before the reality of adulthood hits? In the modern imaginary, it is often perceived that way, yet news from Coimbra remind us that academic life has often played an important part in history and that should not be forgotten.
That is why, the local City Council approved at a meeting held yesterday, 9 November, a proposal for the eventual recognition of the República dos Galifões Association as an entity of historical and cultural interest to the public. The formal recognition can be finalized after 3 weeks of consultations.
What are the Student Republics of Coimbra?
The República dos Galifões is not the first student body to be granted heritage protection by the authorities. In fact, there are already 15 other such 'republics' that have received that status in the city with ancient academic traditions.
The so-called student republics have their origins in the 14th century during the reign of King Dinis, and they are almost as old as the University of Coimbra (the oldest in Portugal and one of the oldest in the world) and an indelible part of its legacy.
Initially they existed as part of the communal housing being provided to students for rent. With time they started acquiring their own autonomy and having their own internal rules, something like the collegiate system in some British and American universities.
The republic really came into historical prominence, however, during the 1960s and 1970s when Portugal was ruled by the authoritarian Salazar regime. They served as political incubators of resistance and were central to the Carnation Revolution in 1974, which saw the overthrow of the regime.
The Republic of Galifões, much like its brethren student collectives, is considered to be "a stronghold for the preservation of the memory of academic experience in the years of intense political contention, the result of strong coexistence and solidarity within the academic community", as reported by the municipal announcement.
That Republic, founded in 1947, also counts with its own flag, anthem and logo and is also valued as a living museum for these important decades, given that it contains letters, testimonies and a mural from the 1960s.
The republics can be thought of as Portugal's oldest forms of local participatory democracy and are ideal examples of solidarity and political contention.
TheMayor.EU stands against fake news and disinformation. If you encounter such texts and materials online, contact us at info@themayor.eu