Available in:
Share article
Taking a hot bath, the smart way
Lithuanians have marketed a heater for hot tubs that uses wood pellets and controls temperature via a smartphone app
January 02, 2020 18:30
Plamen Petrov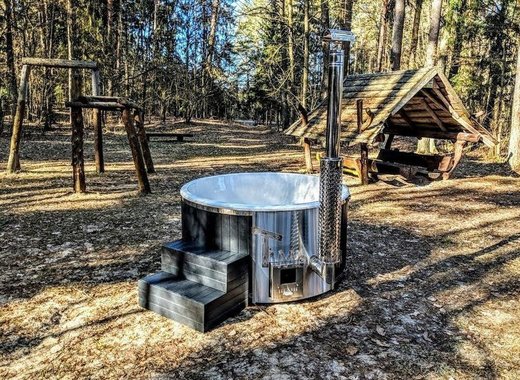 Source: TimberIN
You may well be aware of the numerous virtues attributed to the Nordic spa, a powerful relaxational and regenerative tool that stimulates the function of the heart, maintains the blood circulation, eliminates the body toxins, cleanses the skin, instills a feeling of fulfilment, and so on.
But do you know that heating a hot tub is a time consuming, expensive and not quite eco-friendly effort? This has obviously provided Lithuania's Kaunas University of Technology innovators some food for thought, as they have come up with a definitive solution - a smart pellet-fired hot tub.
Cheaper, more efficient and eco-friendlier fuel
The wooden tub has its water warmed by a heater that is fed wood pellets, rather than the more commonly used split logs. These pellets are not only more affordable, but they produce higher temperatures faster, and emit less smoke, debris and carbon. Also, the pellets are said to be simpler to handle than logs. The tub's inside stockpiling compartment can hold enough pellets for several hot-tubbing sessions.
Smartphone app controls the process
The ignition process is being controlled by a smartphone app, available both on Android and iOS platforms. Using the application, clients first set the required water temperature. Then, an integrated mechanism responds by pushing the needed amount of pellets from the capacity compartment of the wooden hot tub into its ignition chamber. Thus, tub owners don't have to reach into the chamber themselves and risk a burn.
When the pellets start burning, sensors measure the water temperature at both the top and bottom of the tub and upon reaching the required temperature, the application notifies the user. If the temperature in the wooden hot tub drops by 5 or 8 degrees (the temperature dropping level is adjustable), the heater would turn on again. Pellets would keep on being step-by-step moved into the burning chamber, so as to maintain the temperature.
TimberIN, the company, which owns the product, is now selling its 'Outdoor whirlpool hot tub with smart pellet stove' in Germany, Denmark, France, Norway, England and Ireland. Consumer reception is good despite the innovative tub's price of 3809 euro, an investment that will pay off, according to the company.
Preparing to apply for the patent, the inventors of the smart heater are modifying it for usage in outdoor saunas.
TheMayor.EU stands against fake news and disinformation. If you encounter such texts and materials online, contact us at info@themayor.eu