Tartu e-scooters go into hibernation
A new law regulating the use of light vehicles in Estonia makes speeding and obstructive parking punishable
November 05, 2020 13:00
TheMayor.EU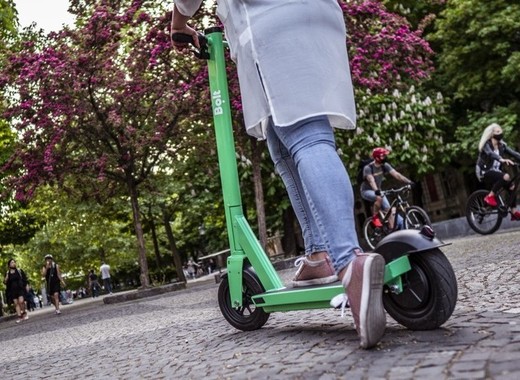 Source: Tartu City Facebook page
Scooters are not bears but they hibernate, too. Bolt's electric scooters in Tartu make no exception. Due to the progressively cooling weather and slippery road conditions, they have been withdrawn from the streets and put into storage for the winter.
The rental of electric scooters, which was launched for the first time in Tartu in May of this year, turned out to be a resounding success, says Eimantas Balta, Bolt's representative for the Baltics.
"Tartu is an ideal city for scooter riding, the distances are not too great and the city space is bike-friendly. The Tartu City Government has a large part in this, actively contributing to the development of light traffic. We are happy to be able to offer our service in Tartu. For our part, we share data with the city on the most popular routes to help map possible directions for new light traffic routes," adds Balta, quoted by the Tartu City website.
Tartu scooter season in numbers:
Throughout the season, scooters rode almost 140 000 kilometres in Tartu, or about three and a half times around the globe.
The longest scooter ride this season was 25 kilometres, tantamount to the distance between Tartu and Elva.
The most avid scooter user made a total of 203 rides.
"Bolt's scooters, which were circulating in Tartu for the first season, diversified the possibilities of moving around the city and also brought environmentally friendly traffic to people who had previously been used to driving a car. The service has been well received by Tartu residents. We have discussed this year's experience with Bolt's representatives, and various solutions are being planned for the city bottlenecks. For example, in connection with the occasional parking of scooters in unsuitable locations," commented the Deputy Mayor of Tartu Raimond Tamm.
The Estonian micromobility platform aims to achieve climate-positive e-scooter operations by the end of this year. This means the company will remove more carbon from the environment than it adds to in terms of scooter production and maintenance.
New law will regulate e-scooter use in 2021
Scooters will return to the streets in the spring when the snow has melted and the weather is warm. Until then, users will have to get familiar with the new law regulating the use of light vehicles in Estonia, including electric scooters, skateboards, hoverboards and unicycles, which will come into effect next year.
Responding to rising traffic accidents after several companies launched scooters for hire in major cities in the summer of 2019, the law makes speeding, especially in the presence of pedestrians, and obstructive parking punishable, LRT reports.
TheMayor.EU stands against fake news and disinformation. If you encounter such texts and materials online, contact us at info@themayor.eu