Available in:
Share article
The EU funds will have improved the health of over 40 million European citizens by 2020
"The Commission has been channeling European Structural and Investment Funds (ESIF) to support health."
February 12, 2019 09:30
Monika Dimitrova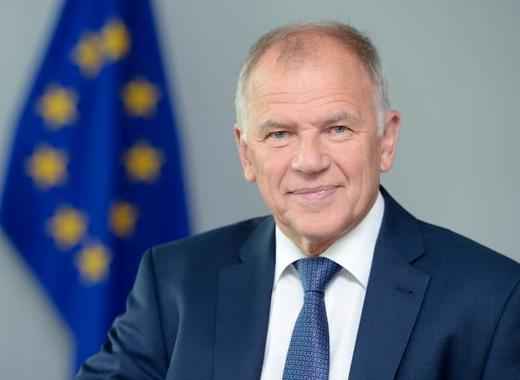 Source: European Commission
Vytenis Povilas Andriukaitis is Lithuania's European Commissioner, a heart surgeon, and a co-signatory to the 1990 Act of the Re-Establishment of the State of Lithuania.
Andriukaitis was elected to the Supreme Council of the Republic of Lithuania, which preceded Seimas (Lithuanian Parliament), in 1990. Andriukaitis was a Member of the Lithuanian Parliament for six terms, from 1992 to 2004 and from 2008 to 2012, and was a Deputy Chairman of its Council from 2001 to 2004. He was a Health Minister of the Republic of Lithuania since December 2012 until the European Commission President Jean-Claude Juncker appointed him to serve as European Commissioner for Health and Food Safety in November 2014.
Commissioner Andriukaitis, could you share with us what are the main health trends and challenges faced by the European Union at the moment?
We have been discussing this topic with our partners in the Member States and with our stakeholders at length. Each country has the right to define its priorities in healthcare and decide how to address them, but there are also many areas where a united approach, coordinated by the European Commission, leads to stronger, more resilient and more efficient healthcare systems.
There are many examples of areas where we already work together, with excellent results: for example, the European Commission brings added value to the European Union's regulatory framework for health products and patients by developing, updating and implementing legislation. I am proud that the Commission has recognised and helped put in place many successful cooperative practices that use the promise of digital technology, such as eHealth.
There are also areas where we could and should strengthen our cooperation: we have decided with our Member States to work more closely together on the huge challenge posed by antimicrobial resistance[1]. The EU is taking action, including through legislative measures, to regulate more strongly the use of antibiotics in veterinary medicine, to promote prudent use of antibiotics in humans, to promote research into new antimicrobial agents, and to strengthen public information, and engagement of health professionals and veterinarians[2]. I would like to mention, in this respect, the newly adopted regulation on veterinary medicines and medicate feed. We are also striving to make sure that we have highly performing monitoring tools, and that we project our best practices internationally.
Another priority for me is to reinforce our vaccination policies as a public health tool. In this respect, I have proposed a Recommendation, which the Member States adopted last December, with the aim of reinforcing vaccine coverage and acceptance, by engaging with health professionals and the public. We are also helping Member States prepare for a flu pandemic by jointly purchasing pandemic vaccines.
Another area of relevance is the implementation of best practices to fight non-communicable diseases, which put a lot of pressure on the national health systems and, more importantly, can be prevented. To be more explicit, these diseases account for 80% of healthcare costs and the United Nations estimates that up to 7% of GDP may be lost due to the impact of chronic diseases. Identifying and financing the roll-out of good solutions is an excellent way to promote a wise investment in the EU.
The overall trend is one of working together and pooling resources, with the European Commission, together with the Member States, focussing on developing and delivering tools, practices and infrastructure to make that possible. In this respect, we recently created a Steering Group on Health Promotion and Disease Prevention and Management of Non Communicable Diseases.
What actions do you envisage undertaking in order to address them?
As mentioned before, we have been helping European countries to harness the power of digital technology and new scientific discoveries, and we will continue to do so for the future. In January 2019 Finland and Estonia introduced the first ePrescription system in the EU. The system allows patients from Finland to pick up medicines in Estonia, which were electronically prescribed by their doctor in Finland.
We also introduced European Reference Networks, which connect patients suffering from rare or complex diseases with doctors and specialists across borders to improve access to diagnosis and treatment. We proposed sustainable cooperation on the Health Technology Assessment (HTA) that would facilitate joint work of national HTA bodies, allowing them to perform joint work on scientific and clinical parts of assessments, making them more timely and improving patient access to truly innovative health technologies across the EU. We will also continue to work together to strengthen crises preparedness and effective response to cross-border health threats and other public health emergencies.
The Steering Group on Health Promotion, Disease Prevention and Management of Non Communicable Diseases, which I mentioned earlier, is part of a new approach to maximise joint efforts with the EU Member States on reaching the nine voluntary targets of the World Health Organisation by 2025 and the Sustainable Development Goal targets by 2030.
This group actively identifies best practices that can directly improve the health of citizens and scans the EU financial instruments for the best way to finance them. To give you an example, we are currently financing the replication of a best practice on improving cardiovascular health in a number of volunteer Member States, based on its success in an Italian region.
It is important to note that the new Multi-Annual Financial Framework for 2021-2027 will create more synergy and closer links between the EU funds. As such, health will be part of the integrated European Social Fund + programme (ESF+), but we will continue our support of the Member States through various other financial programmes, including InvestEU, Horizon Europe, Digital Europe and others.
What are the key measures that can be taken at EU level to give citizens a meaningful role in promoting efficiency and sustainability and ensuring equitable access to healthcare?
We have been working jointly with our Member States to shift our health systems to a more preventive and personalised model. To this end, I created in 2016 the State of Health in the EU cycle.
The latest Health a Glance report, which we published jointly with the Organisation for Economic Cooperation and Development (OECD) in November 2018, indicates that that up to one fifth of health expenditure could be used better. It is clear that a shift from the traditional hospital-centred healthcare towards more person-centred infrastructures and services, requiring investments into "softer", less tangible elements is the right way to go. We will continue to address prevention, focussing on reducing non-communicable diseases and health inequalities across Member States. This will involve strengthened primary care and more integrated care services, empowerment of patients, development of home care and community-based services, improved digital infrastructure for data sharing, and an increased capacity to measure cost effectiveness through Health technology assessment (HTA), to name just a few. These measures will be supported through funds, such as structural funds, and should ensure more equal access for all citizens.
Finally, but importantly, citizens can submit evaluated public health intervention practices to our "best practice portal" where they will be evaluated to select the "best". Patient organizations and other civil society representatives are also invited to join the Health Policy Platform.
The Commission supports the EU countries by infrastructure investments, assistance in policy reforms and funding of joint research projects. In this aspect, have disparities between most and least developed regions increased or decreased?
Important health inequalities persist in Europe and this is a matter of concern for all.
The European Commission has been channeling European Structural and Investment Funds (ESIF) to support health. Let me underline that between 2014 and 2020, the ESIF investments will have improved the health of over 40 million European citizens – a figure of which we should be proud.
Before distributing the 2014-2020 funds, the Commission prepared a Guide defining key policy areas for investment in health. It matched ESIF priorities with health policy recommendations addressed to Member States. In some cases, health reforms were tied to the Member States' eligibility for some types of funds, helping them to achieve a better coordination of healthcare investments.
The proposal for the new EU budget reinforces the link between the Member States' health priority setting and the possibility to muster financial support from EU sources to improve health and reduce health inequalities.
The European Commission is very active with regards to the digital health. Will the EU have the necessary resources to put all the plans into practice?
We are dedicated to putting all the plans into practice. As already mentioned, we already have a number of digital tools in place, such as the new ePrescription system and European Reference Networks.
The new budget will boost the funds available for eHealth. For example, the current Connecting Europe Facility (CEF) will be extended and will focus on promoting high-capacity digital networks and infrastructure of common European interest. CEF will contribute to ensuring that all main socio-economic drivers such as schools, hospitals etc. have access to future-oriented broadband connections by 2025. The new Digital Europe Programme (with a budget of EUR 9.2 billion) will support investments in Artificial Intelligence, Supercomputing, Cybersecurity, Digital skills, and the wide use of digital technologies in areas of public interest.
Millions of EU citizens travel, work or live in another country and they expect to have access to the best medical services everywhere in Europe. How can digital innovation make their life easier?
In addition to having medication prescribed in one country and picking it up in another, patients should soon be able to access their medical records in any EU country. Furthermore, the Cross-border Healthcare Directive ensures patients' rights to access safe and high-quality healthcare across national borders in the EU and to be reimbursed. European Reference Networks, meanwhile, connect patients suffering from rare or complex diseases with specialists across the EU. We already have a strong framework in place and I am confident that we will keep building on it.
[1] About antimicrobial resistance, World Health Organisation (WHO). http://www.euro.who.int/en/health-topics/disease-prevention/antimicrobial-resistance/about-amr
[2] EU Action on antimicrobial resistance, European Commission. https://ec.europa.eu/health/amr/antimicrobial-resistance_en
TheMayor.EU stands against fake news and disinformation. If you encounter such texts and materials online, contact us at info@themayor.eu