Available in:
Share article
The Riga Central Market renovations hit major roadblock
The UNESCO World Heritage Site was hit by a landslide which significantly crippled the planning of renovation efforts
August 07, 2019 11:30
Anton Stoyanov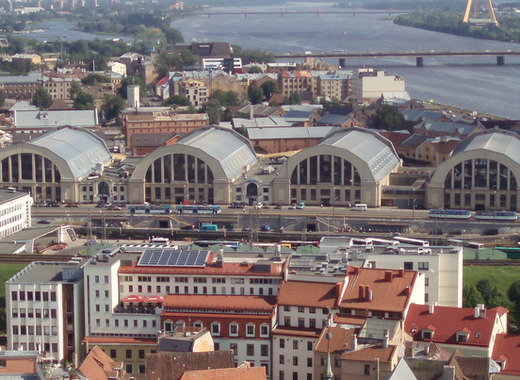 Source: David Holtuploaded and MrPanyGoff [CC BY-SA 2.0]
The Riga Central Market is one of the Latvian capital's most notable landmarks. It was built all the way back in the 1920s and was proclaimed a UNESCO World Heritage Site in 1998. The Market is famous for its pavilions using old German Zeppelin Hangars – 5 of the 9 remaining in the world. This magnificent cultural site has been in deteriorating condition for some time now. Renovation efforts were started in 2017 by the Riga City Council but recently they hit a major roadblock.
Apparently, Mother Nature had other plans for the site. The Riga Central Market was hit by a landslide in spring 2019, which caused damages and delayed construction efforts. This in turn led to the municipality losing 5 million euro of EU funding and has further complicated the renovation efforts.
As of now the main problems are the following – solving the problem of the sudden loss of 5 million euros, determining responsibility and finding a way forward. The 5 million euros were meant to go towards improving the Central Market's waterway – but now this stage has to be seriously delayed as work on reinforcing the river's bank near the Riga Bus Station will take priority – the location where the landslide first started. Regarding the responsibility – taking into account feasibility studies, the river bank was deemed safe, according to municipal officials, yet its supports broke just a few short weeks after renovation works on the Central Market had begun. As the embankment is owned only in part by the municipality, it can't take the full blame for the problem. The other owner is its tenant – the Riga Central Market.
Finally, what about the future? Currently nobody actually knows. The entirety of the problem is still being assessed as well as where new money should come from – should it be from Riga Municipality or from the city's Property Department or should the Central Market itself pay the costs. A decision will probably be reached by mid-August, when a new tender will be launched to supplement the renovation efforts.
TheMayor.EU stands against fake news and disinformation. If you encounter such texts and materials online, contact us at info@themayor.eu