The seven largest Spanish cities claim stronger role against COVID-19
Their group wants to be more included in the national and regional efforts against the coronavirus
April 16, 2020 09:30
Aseniya Dimitrova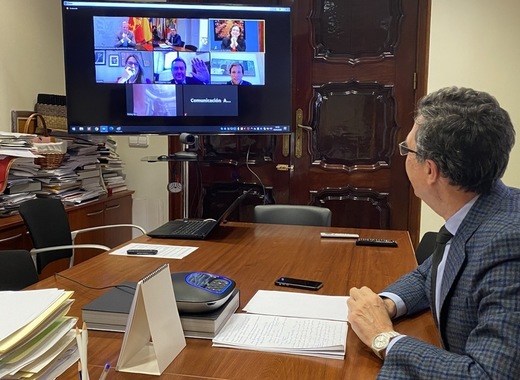 Source: Video conference establishing C-7 group / City Council of Murcia
The mayors of the seven largest Spanish cities took part in a video conference on Tuesday to discuss their role in the fight against COVID-19. Madrid, Barcelona, ​​Valencia, Seville, Zaragoza, Malaga and Murcia have united under C-7, to defend their common interests and to claim more involvement in the national and regional efforts against coronavirus.
A new framework of cooperation
The foundational videoconference was convened around the serious problems and common challenges that large municipalities are facing and the health and socioeconomic crisis generated by the global pandemic of COVID-19. It resulted in the approval of a Declaration entitled "Strong, civic and solidary cities to get out of the crisis"'.
The document considers it essential that state and municipal regulatory and fiscal measures are deployed as quickly as possible so that municipalities can adopt their own decisions in a complementary manner and with urgency.
"We sign the following Declaration, which is presented as a fraternal call to all citizens and the rest of the public administrations of the State, with the aim of reinforcing unity, responsibility, solidarity, coordination and cooperation as essential elements for overcoming the greatest challenge that Spanish society has suffered in its current democratic stage ", reads the text.
Mayors – the closest public body to citizens
The Spanish mayors requested to be granted a more active role in the preparation and development of state and regional plans related to the coronavirus crisis, as they are at the front line of the battle and the ones closest to the inhabitants, the first body to be addressed by them.
"Given the decrease in income of local administrations, in the face of the cessation of activities, and the increase in public spending on social and health matters, the City Councils must be equipped with the necessary financial mechanisms to face this situation, to protect the more vulnerable and work for economic recovery" said the mayor of Murcia José Ballesta. He also added that in many cases it will be necessary to resort to the authorization of indebtedness through loans granted by public entities.
The mayors united permanently under C-7 represent more than 8 million inhabitants and their cities host 71.8% of research and development spending. The group includes Mayor of Madrid José Luis Martínez-Almeida, the Mayor of Barcelona Ada Colau, the Mayor of Valencia Joan Ribó, the Mayor of Seville Juan Espadas, the Mayor of Zaragoza Jorge Azcón, and the Deputy mayor of Malaga Susana Carillo.
They adhere to different ideologies, yet they are aiming at future collaboration, beyond the end of the coronavirus crisis.
TheMayor.EU stands against fake news and disinformation. If you encounter such texts and materials online, contact us at info@themayor.eu