The summer theatre season in Braila has opened
The performances will take place in compliance with the measures and rules for outdoor organized cultural events
June 24, 2020 17:30
Monika Dimitrova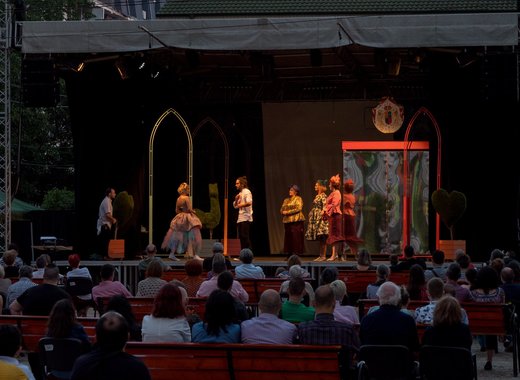 Source: Braila Theatre
The summer season of the Maria Filotti Theater in Braila was opened on Saturday, 20 June. The performances are played outdoors on the stage located at the intersection of Mihai Eminescu and Mihail Sebastian streets. The entrance is made on the basis of an invitation that can be purchased from the Theater Agency.
The performances will take place in strict compliance with all epidemiological measures
The measures and rules for outdoor organized cultural events oblige employees and audience to wear a mask (medical/non-medical), which for effective protection must cover both the mouth, as well as the nose. Actions during Covid-19 prevention include also social distancing for technical and production teams.
All participants in the event - including the spectators, artist, service providers and workers, recognize and understand the risks involved in attending. Preventative anti-COVID-19 measures that will be taken feature the measuring of temperature by a non-contact thermometer, as well as performing regular observational triage at the entrance to the delimited area of ​​the event. Symptomatic persons and those with a measured temperature higher than 37.3 C will not be allowed access.
The workspace has also been modified so as to allow the maintaining of the physical distance of 1.5 meters between any two persons. Placement of dispensers with disinfectant solutions at the entrance to the delimited space of the event is also mandatory.
Measures concerning access and contact with the public include:
written announcements regarding the rules of physical distance will be placed in a visible place;
limiting public access so as to ensure a minimum distance of 1.5 m between persons;
limiting the event to a time interval of 4 hours;
access is made on time up to one hour in advance to avoid congestion.
Scheduling shows:
Saturday 27 June, 8.30 pm - THIS IS OUR YOUTH by Kenneth Lonergan, directed by Radu Iacoban
Saturday, July 4, 8.30 pm - CHEALA SINGER by Eugene Ionesco, directed by Radu Iacoban
Saturday, July 11, 8 pm - THE UNFORTUNATE PRINCE by Marivaux, directed by Sânziana Stoican
Sunday, July 12, 8.30 pm - THE DREAM OF A GALA NIGHT by Cornel Cristei, directed by Radu Nichifor
Saturday, July 18, 8.30 pm - RAPSODY IN TWO - coupe show by Dumitru Solomon and Teodor Mazilu - Part I
Saturday, July 25, 8.30 pm - RAPSODY IN TWO - coupe show from Teodor Mazilu's dramaturgy - Part II
Saturday 1 August, 8.30 pm - RAPSODY IN TWO - coupe show by Dumitru Solomon and Teodor Mazilu - Part I
Saturday 8 August, 8.30 pm - RAPSODY IN TWO - coupe show from Teodor Mazilu's dramaturgy - Part II
Saturday 15 August, 8.30 pm - THE DREAM OF A GALA NIGHT by Cornel Cristei, directed by Radu Nichifor
TheMayor.EU stands against fake news and disinformation. If you encounter such texts and materials online, contact us at info@themayor.eu