Available in:
Share article
Tilburg controls vehicle access to central area with smart cameras
They will scan the car and truck plates and warn off offenders
February 07, 2020 17:30
Aseniya Dimitrova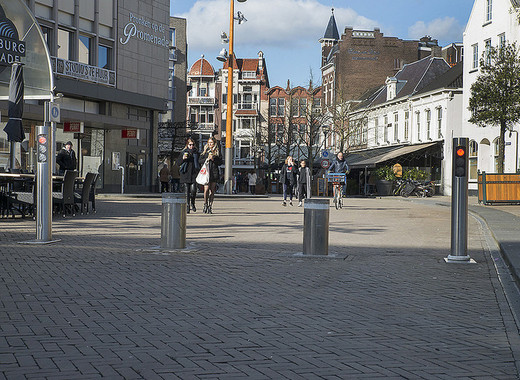 Source: tilburg.nl
Very soon, Tilburg will implement a smart measure to improve the control cars' and trucks' access to its city centre. On Monday 17th February intelligent cameras will start to operate and manage the access to the central shopping area, replacing the existing retractable posts, announced the municipality.
Protecting pedestrian zones of Tilburg
Currently, there are such posts in 16 places in Tilburg, the sixth-largest city in the Netherlands. They physically prevent the access of unauthorised vehicles in the delimited space, but that system is perceived as outdated as the retractable posts are operated manually and there are frequent disruptions in their work. Occasional accidents are also not out of the question.
A large part of the city centre of Tilburg is nowadays closed to cars and trucks. Currently, the so-called core shopping area of Tilburg is only accessible for loading and unloading between 6 a.m. and 11 a.m. Outside these times it is a pedestrian-only zone. Only emergency services and vehicles with a traffic exemption are authorised to enter it, although others sometimes try to do it despite the rules in place.
Smart traffic management solutions
Thus, the smart cameras, which will replace the existing solution after mid-February, scan license plates of the vehicles in the pedestrian zone and emit warning signs to make traffic participants aware of changes in the situation.
If a vehicle has no exemption from the limitation valid for the pedestrian zone, but nevertheless the driver enters it, they will receive a warning. For each subsequent violation, they will get a ticket of 140 euros (excluding administration costs).
Enforcement with license plate registration falls under the General Data Protection Regulation, remind the city authorities. The data of offenders is kept for as long as required by law and all other data will be deleted within 72 hours, reassure the municipality.
TheMayor.EU stands against fake news and disinformation. If you encounter such texts and materials online, contact us at info@themayor.eu