Available in:
Share article
Together with residents, we managed to make Białystok a city which we can be proud of
Interview with Tadeusz Truskolaski, Mayor of Białystok
January 23, 2020 11:30
Aseniya Dimitrova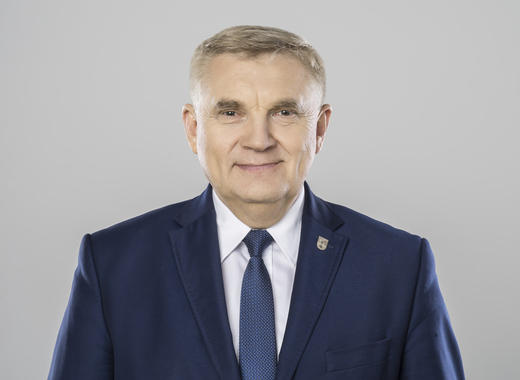 Source: Tadeusz Truskolaski / City of Bialystok
Tadeusz Truskolaski has been Mayor of Białystok City since 2006, currently serving his fouth term. Economist, university teacher and scientist, he holds the title of doctor habilitatus and Professor of the University of Białystok. He is also a member of the Committee of the Regions.
Mr Truskolaski, how would you describe Białystok in a few sentences?
Białystok is a modern, environmental-friendly city and, as confirmed by Poland-wide rankings, a city that is a good place to live. Bialystok is the capital of the Podlaskie Voivodeship and the largest city of the north-eastern Poland. Around 300 thousand people live here. It plays the role of the administrative, scientific and cultural centre of the Podlaskie region. It is the largest economic centre in the north-eastern Poland. Białystok is distinguished by not only modern economy based on knowledge but also favourable costs of doing business, and, above all, access to a qualified staff. It is a city with scientific and research facilities and a rich educational offer of vocational and higher education schools. The city is home to three public universities, with the number of students surpassing 26 thousand.
Białystok is a green city with numerous parks and a lot of greenery. Residents are willing to use the wide range of cultural, sports and recreational opportunities.
You have been involved in the local government since 2006 and this is your fourth consecutive term as Mayor. How did the city change over the years?
Today, Białystok is a totally different place than at the beginning of the 21st century. Over the past years, together with residents, we managed to make Białystok a city which we can be proud of. Białystok is rapidly developing, it has a modern road infrastructure, efficient public transport with a modern bus fleet, a system of city bikes and over 140 km of bike routes. We have also changed the face of the city centre creating a pedestrian space popular with the city residents.
We try to be as close to the people as possible and improve their closest surroundings. The comprehensive and easily accessible educational and cultural infrastructure are appreciated by both residents and visitors. The positive image of the city is complemented by numerous green areas with marked running routes and sports and recreational sites. We also carry out activities related to the protection of biodiversity. Among other things, we create flower meadows and fields of sunflowers.
Since you assumed office, Białystok has attracted significant investments and European funds. How did they help you in developing the city and what are the main projects you could not have accomplished without European Union support?
Since 2004, we have obtained approximately PLN 1.6 million from the European Union. Thanks to this support, we have carried out investments worth over PLN 3 billion. European Union funds obtained as a subsidy for projects implementation is a key element of the city's budget. Thanks to the support, we managed to carry out investments which in other circumstances would not be completed. As a result, we have a well-developed city roads network and modern public transport at our disposal. With the support from the EU, we have also built City Stadium and Białystok Science and Technology Park. We have completed the project called "Integrated waste management system for the Białystok metropolitan area".
Białystok is a supra-regional academic and scientific centre. Would you tell us more about the project you mentioned – the Science and Technology Park (BPN-T) and what impact is it expected to have on the city and region?
Białystok Science and Technology Park was established in 2011 as part of a project co-funded by EU (Operational Programme Development of Eastern Poland (2007–2013). The park includes two facilities: Technology Incubator along with administration and Technology Centre BPN-T. The Technology Incubator (with surface area of around 5 thousand m2) is a facility with logistics, representative, conference and exhibition-related functions. Within the Incubator, there is an office and commercial space available for entrepreneurs to rent on preferential terms.
The Technology Centre (with surface area of around 7.3 thousand m2) is a facility which supports companies by offering office and laboratory space for rental. It is a space where cooperation between science and business is possible due to advanced R&D infrastructure. The facility features science and research laboratories equipped with state-of-the-art devices.
In the Białystok Science and Technology Park there are a total 79 enterprises operating. This includes 51 in the Incubator (including: 31 startups and 20 mature companies) and in the Centre: 28 (11 startups and 17 mature companies).
The high interest of companies with the facilities of the Białystok Science and Technology Park is largely the result of the possibility to benefit from the offer and specialist equipment on preferential terms. The offer is very popular among companies both on a local level and internationally. The park cooperates with innovative companies, business support institutions, science and research centres. Białystok higher education schools and scientific centres recognised in the country and abroad make use of the infrastructure.
The activity of BPN-T plays a major role in creating a positive image of the city and region. In Białystok, there are favourable conditions for the development of innovativeness and people full of ideas live here – these ideas, based on the available infrastructure can be developed on a global level. PHOTONA, an educational robot, or solutions used for the improvement of life of disabled people are worth mentioning.
Since April 2019, SAMSUNG incubator launched by Samsung Electronics Polska has been operating in BPN-T. It is a place dedicated to young entrepreneurs where, with the support of new technologies and experts, startups will create solutions for sustainable development, in particular, addressing problems in environmental protection, ecology, transport or education. BPN-T partners with the Incubator.
One year ago, the idea of Smart City Białystok was presented. Could you tell at what stage it is now and what main directions of development does this plan preview?
We are trying to implement the Smart City concept as comprehensively as possible, ensuring a wide and diversified range of solutions introduced. In Białystok, we implement the ideas so that they would translate into the improvement of the quality of life.
We have offered the residents tools which enable contact with the city office, facilitate procedures of handling of official decisions or provide access to the necessary data.
We have introduced e-services: a "Digital Office" platform and Electronic System of Documentation Management. IT systems such as a Geographical Information System (GIS) and a surveying website support the exchange and sharing of data. We use new channels such as social media for communicating with residents. We have established ICT Service Centre – a hotline.
In Białystok, we also create an environment favourable for the development of entrepreneurship. It's a city with the atmosphere of innovativeness, supporting local entrepreneurs in establishing foreign contacts, promoting already existing companies and attracting new investors. We ensure residents with the possibility to co-create our city. The Centre for Social Activity operating in the city is a formula for developing citizenship and pro-social attitudes. It is open to the residents of Białystok, representatives of non-governmental organisations or citizens' social initiatives. In Białystok, we benefit from social consultations – a form of dialogue conducted by the office with the city residents in order to consult them on the functioning of the city. Its special form is a so-called Participatory Budget (the community decides directly on a part of budget expenses, residents diagnose needs, submit projects for implementation, and then vote on them. Winning projects are implemented by the City.)
We are constantly analysing and adjusting current solutions, but also we develop new ones for further growth of Białystok as a smart city.
Finally, would you say something about the Low-carbon economy plan for the city of Białystok until 2020? Are you satisfied with the results so far and what are the main innovations and solutions that you implement to achieve sustainable development?
The main objectives of the currently applicable low-carbon economy plan for the City of Białystok are: improvement of energy efficiency and reduction of energy consumption, increasing the share of renewable energy sources and improvement of air quality in the city. Białystok and Podlaskie Voivodeship are recognised as the "green lungs" of Poland. In order for this to last, we finance the replacement of furnaces and installation of heat pumps and solar collectors in the houses of Białystok residents.
We develop a low-carbon bus fleet, create bike paths and build a network of city bikes. In the Spatial Development Plans, we introduced provisions about determining the building's location in such a way as to enable free flow of air and ventilation; creating green environment around buildings; choosing heat supply from the urban heating network. Eco-friendly activities aimed at increasing the share of greenery in the city space are also conducted. These include, among others, planting trees, creating flower meadows, sunflower and rapeseed fields, green screens and bus stops, providing residents with tree seedlings for planting in their recreational lots and gardens.
TheMayor.EU stands against fake news and disinformation. If you encounter such texts and materials online, contact us at info@themayor.eu