Two municipalities, one festival, thousands of masks
Yambol city and the villages of Tundzha Municipality are preparing for the 'Kukerland' International Masquerade Festival
February 19, 2020 16:00
Plamen Petrov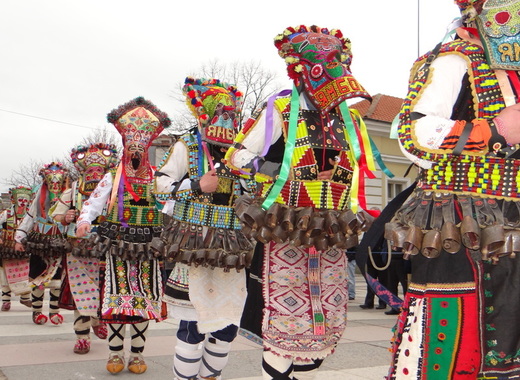 Source: Yambol Municipality
The municipalities of Yambol and Tundzha are again joining forces to organize the International Masquerade Festival 'Kukerland', which is under the auspices of the Ministry of Culture, reported kmeta.bg.
The 21st edition of 'Kukerland' will take place between February 27 and March 1 in the town of Yambol and the villages of Tundja Municipality. In two consecutive days (February 29 - March 1) Yambol will see the competitive parade of masquerade groups, which is also the most magnificent event in the program of the festival. The prize pool amounts to BGN 18,000 and is distributed by an authoritative jury into several categories.
The three-meter, multi-colored, cone-shaped masks - a 'Kukerland' trademark and a joy for children and selfie lovers - will once again be arranged in the traditional Mask Walk at Yambol City Park.
In the parallel event "Kukeriada - Tundzha, the Valley of the Kukers", groups of thirteen villages in the municipality and 13 other settlements in the country will recreate the Kukeri traditions and the authentic masquerade rituals. 1000 pdrticipants ringing 20 000 bells promise a lot of noise and fun!
'Kukerland' is the first annual masquerade games festival in Bulgaria, held without interruption since 2000, the largest cultural event in the region and one of the most spectacular events in the country dedicated to the Kukeri traditions.
An ancient tradition with a modern message
The Kukeri tradition dates back to pagan times and is associated with the culture of ancient Thrace and the Dionysian rityals of that time. With the help of their fearsome masks, the Kukeri chase away the Evil spirits and announce the onset of spring, wishing fertility and health.
But the current edition of the festival also carries a modern, special message – Bulgarian folklore, traditions, and spirit should not separate but unite the people. That is why the organizers of 'Kukerland' are challenging the guests and residents of the municipalities of Yambol and Tundzha:
If you keep a traditional Bulgarian costume in your homes, put it on on February 28 and come at 5.30 pm in front of Yambol municipality to walk the path of the festive parade and rekindle the flame of a preserved tradition, together with the National Folk Song and Dance Ensemble "Philip Kutev". Let us dive into the magic of Bulgarian folklore together and be a part of this unique experience!
You can learn more about 'Kukerland' here.
TheMayor.EU stands against fake news and disinformation. If you encounter such texts and materials online, contact us at info@themayor.eu