Available in:
Share article
Tychy now has a pedestrian officer
A similar position already exists in Lublin and Wroclaw
October 10, 2020 15:00
Aseniya Dimitrova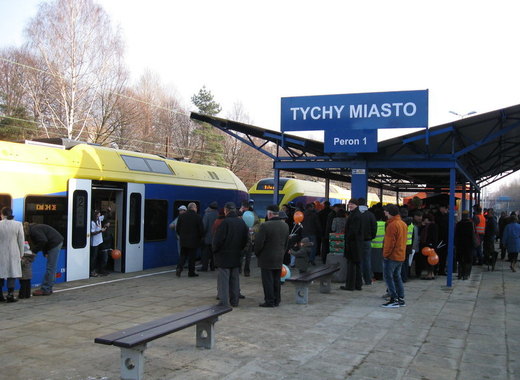 Source: Tychy Miasto / Mirek on Flickr (CC BY-NC-ND 2.0)
As of last week, Tychy officially has a pedestrian officer. This newly installed figure is charged to defend the interests of those citizens who travel on foot. His mission becomes especially important in the context of the coronavirus pandemic when citizens are urged to avoid public transport and to prefer soft mobility forms.
Supporting pedestrians becomes essential in times of Covid-19
Inspired by larger Polish cities like Wroclaw and Lublin, Tychy decided that is about time it started to give a priority to the interest of pedestrians. That is why since the beginning of this month the municipality has its own Pedestrian officer.
Andrzej Dziuba, mayor of the city, appointed to the position an employee of the Department of Spatial and Town Planning at the city hall. His official title is "Plenipotentiary for the coordination and development of public space for pedestrian traffic in the City of Tychy".
The task of the Pedestrian officer will be to give opinions on different design solutions. This includes the assessment of project documentation, participation in technical councils for investment, giving opinions on projects submitted under the Civic Budget and collecting and promoting good practices and solutions that can benefit the development of pedestrian traffic.
"I believe that we should shape urban space primarily with people, not only cars in mind. As an urban planner and economist consciously working without a car, I pay attention to problems in the city space that we do not notice from behind the wheel of a car. I would like to promote solutions friendly to residents who move around the city on foot", commented Michał Lorbiecki, the first person to hold the job with the City of Tychy. To better perform his duties, he also accepts suggestions from citizens by e-mail at: michal.lorbiecki@umtychy.pl
Michał Lorbiecki will work with municipal organizational units, town planners, architects as well as with communities and social leaders in shaping city policies that affect the functioning and development of pedestrian traffic and public spaces. He will participate in meetings and conferences, assessing the already adopted rules and developing new ones, and will represent Tychy at debates on pedestrian matters, will work on municipal projects and social consultations in the field of sustainable and active mobility.
The municipal administration of Tychy also reminds that a similar position has been in existence for years, with the objective to defend the rights of cyclists. The role of "Plenipotentiary for the coordination and development of bicycle traffic in the city of Tychy" is performed by Michał Kasperczyk.
TheMayor.EU stands against fake news and disinformation. If you encounter such texts and materials online, contact us at info@themayor.eu