Available in:
Share article
Vienna's Campus of Religions takes shape
The new venue aims to bring representatives of 8 faiths together to build a better and stronger community
August 15, 2020 12:00
Anton Stoyanov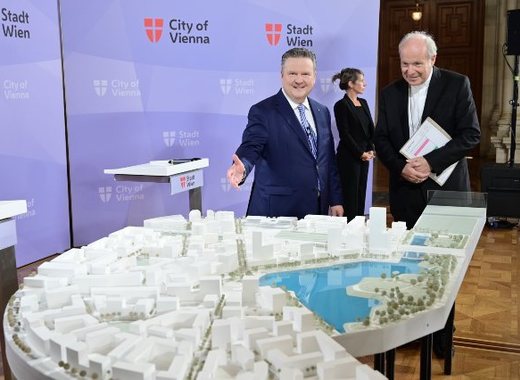 Source: Stadt Wien
Vienna is making great leaps in promoting intercultural exchange with the creation of its unique Campus of Religions. The venue will house religious buildings of 8 distinct faiths in an area of around 10,000 square meters with the goal of stimulating interreligious dialogue and understanding.
Putting an emphasis on working together
The Campus of Religions is a unique take on the path towards creating tolerance and understanding between the people adhering to different beliefs. The grounds are being developed jointly by the City of Vienna, alongside 8 religious communities that act as project partners – namely the Austrian Buddhist Religious Community, the Roman Catholic Church – Archdiocese of Vienna, the Evangelical Church, the Islamic Faith Community in Austria, the New Apostolic Church Austria, the Sikh religious community, the Greco-oriental metropolis of Austria and the Jewish Community of Vienna.
The development of the Campus is also supported by the University College of Teacher Education of Christian Churches Vienna/Krems (Kirchliche Pädagogische Hochschule Wien / Krems) which is in and of itself unique in the world – offering training in ecumenical sponsorship by different Christian churches.
The buildings will adhere to the highest environmental standards and will help the city in accomplishing its climate targets. Source: Stadt Wien
It is worth noting that in constructing the Campus, local authorities have not forgotten their green objectives. The buildings that will be erected on its grounds will all boast green walls and roof gardens in order to make them more environmentally friendly.
The other main point that officials want to drive forward through the very buildings themselves is the principle of a shared community. The edifices will be connected with bridges that lead and act as common areas, which further symbolize the unity of the different faiths as well as the possibility of intercultural dialogue.
Upon presenting the final version of the project, the Mayor of Vienna, Michael Ludwig stated that "The campus should become a place of living religious convictions, respect and ideological tolerance. It is therefore highly symbolic for all of Vienna and will have an impact far beyond the city. With this unique project, let us show that the Vienna way of togetherness is the way to the future. "
TheMayor.EU stands against fake news and disinformation. If you encounter such texts and materials online, contact us at info@themayor.eu