Vilnius challenges coronavirus with Mask Fashion Week
Culture is the focus of Vilnius 4×3 action plan
May 07, 2020 10:30
TheMayor.EU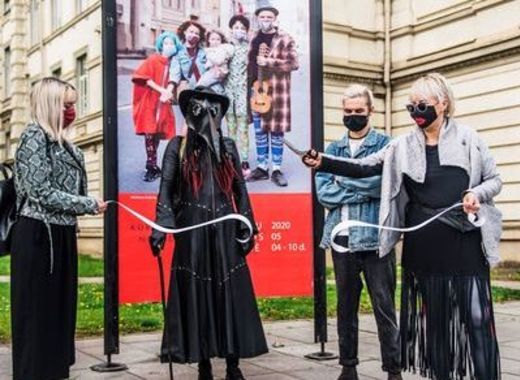 Source: Vilnius City Municipality
Because of the coronavirus pandemic, a protective face mask has become a must-have accessory for most people visiting public places around the world. However, creativity cannot be covered up with a mask, and life must not become greyer because of the new rules. This is the conviction of the participants of Mask Fashion Week which is underway in Vilnius from 4 to 10 May.
Outdoor event born by accident
The event takes place right in the streets of Lithuania's capital. People can walk on foot, in accordance with safety requirements, or drive along the prepared route and see 21 examples of stylish, expressive and witty masks displayed on outdoor billboards.
According to designer and project's author Julija Janus, the idea of ​​Mask Fashion Week was born by sheer accident after she was approached by a journalist who asked her to comment on mask fashion. "At first I laughed, but within half an hour I was busy creating an open Facebook group called Mask Your Fashion," says Julija.
The project turned contagious on the social network, with photographers, designers, businessmen, musicians, students rushing to participate. Among the first to join the initiative were musicians Erica Jennings and Jurgis Didžiulis with their family, designer Robertas Kalinkinas and Vilnius Mayor Remigijus Šimašius himself.
A team of volunteers helped organize the event, and the meetings were held remotely via video calls. Out of several hundred masks created by the participants of the group, 21 were selected for the final presentation.
"I thought it was a great idea to look creatively at this accessory and use your imagination to connect people in an innovative way - that's what society needs especially now," says singer Erica Jennings, quoted by the city website. In her opinion, masks can not only separate people, but also create a connection. "Other people's faces are a reflection of us. When we smile, people respond with a smile, a connection emerges. So masks can also create a positive or negative connection," muses Erica.
The project partner is Vilnius Tourism and Business Development Agency "Go Vilnius". All the works created by Mask Fashion Week participants can also be viewed online.
Vilnius responds to the pandemic with own action plan
In response to the consequences of the COVID-19 pandemic, Vilnius City Municipality has developed its own action plan, which addresses four areas: personal support, business support, cultural support and creating opportunities. The so-called Vilnius 4×3 Plan pays particular attention to culture – the city plans to allocate about one million euros for the rescue of cultural organizations and events in the near future.
TheMayor.EU stands against fake news and disinformation. If you encounter such texts and materials online, contact us at info@themayor.eu