Vilnius unveils plans for new electric car charging stations
59 new fast charging stations will become available in the capital by the end of the year
October 30, 2019 21:30
Anton Stoyanov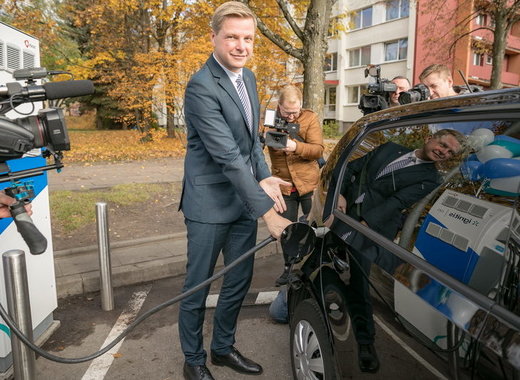 Source: Vilnius municipality
The mayor of Vilnius Remigijus Šimašius, alongside Minister of Energy Žygimantas Vaičiūnas, recently unveiled the newest improvement to the Lithuanian capital – 50 brand new fast-charging station for electric cars. He further reiterated the municipality's plans to provide increasing support to those using electric vehicles and announced plans for the creation of another 59 charging stations – all of them capable of charging up cars in 30 minutes or less.
Mayor of Vilnius – champion of promoting electric vehicles
Remigijus Šimašius has proven to be a big fan of the electric vehicle revolution, championing the addition of electric buses to the city's public transport network and believing that more and more people will eventually take up the use of electric cars.
"The number of electric cars in the capital is constantly growing and it is an integral part of a modern forward-looking city…The first electric buses in Lithuania… have also taken to the streets of the capital. With zero emissions, they will undoubtedly contribute to a greener vision of the city. I have no doubt that the number of electric vehicles in the capital will continue to increase, and the municipality will continue to provide convenient infrastructure to encourage the use of greener transport" he stated during the inauguration of the rapid charging stations.
Vilnius boasts the highest number of electric vehicles in the country. To reflect the changing attitudes of citizens, the local administration is also eager to create the most saturated network of electric charging stations in Latvia. The newest additions will boost their total number to over 200.
Plans also include the creation of charging stops at critical junctures and roads leaving and entering the Latvian capital as well as in more remote areas of Vilnius municipality, allowing citizens to use their electric vehicles freely, without fear of their batteries dying in an unfamiliar location.
The Lithuanian capital has been a pioneer in promoting high-tech solutions to modern problems, so it should come as no surprise that the city's mayor is so eager to embrace the transformation of urban mobility.
Like the article? Subscribe to our newsletter to receive the latest from the EU cities right into your inbox.