Available in:
Share article
We want to make the city centre of Nieuwegein the most sustainable in the Netherlands
Interview with Frans Backhuijs, Mayor of Nieuwegein
September 19, 2019 09:30
Aseniya Dimitrova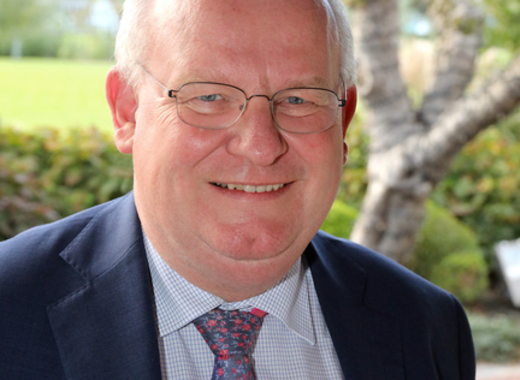 Source: Municipality of Nieuwegein
Frans Backhuijs has been active in local politics for decades now. Over the years he has been a municipal councillor in Eindhoven (from 1986 to 2002), mayor of the Overijssel municipality of Oldenzaal (March 2004), and a mayor of the Utrecht municipality of Nieuwegein since 2011.
Mr Backhuijs, how would you describe Nieuwegein briefly: what would you like our audience to know about the municipality?
Nieuwegein is a relatively young town, with a surprisingly rich history. Nieuwegein is strategically situated on the Lek river and other waterways and has always been a trading town. Nowadays this is reinforced by its central place in the Netherlands and the triangle of key arteries nearby. Nieuwegein is recently proclaimed a national distribution and e-fulfilment hotspot. The inhabitants of Nieuwegein have a hands-on mentality. They are inspired by the motto "just do it!" This entrepreneurial attitude inspires the companies that have settled and still find their way in Nieuwegein.
Nieuwegein wants to be a climate neutral city by 2040, a decade before what the European Commission's strategic vision suggests. What are the major steps to achieve this and where are you now?
Last year, we started our first four-year implementation plan with various projects and actions. All activities are arranged in five main routes: energy saving, sustainable heat, sustainable electricity, energy storage and sustainable mobility. Cooperation with other parties is an important part of the process. Therefore, I want to point out some examples of what we have initiated: tenants can get free energy advice, we have made achievement agreements with housing corporations, we provide sustainability loans to homeowners. We support sports clubs in their steps towards a sustainable accommodation, we monitor companies to ascertain whether they meet our energy requirements and provide advice and assist companies with the realization of solar panels on their roofs.
Also, we replace the lighting with LED in our municipal real estate. We are working on a heat transition vision (how and when we switch from natural gas to sustainable solutions). Step by step our district heating is made more sustainable (our city partly has district heating). Two solar fields have been realized last year. We subsidize the purchase of electric scooters. We want to make our city centre the most sustainable city centre of the Netherlands in collaboration with our stakeholders.
What digital and technological innovations are you intending to introduce to reach this ambitious goal?
Our citizens can explore sustainability measures for their house online. We developed this digital environment in cooperation with other regional municipalities. Nieuwegein is a good place to be for electric car owners: the public charging station/inhabitant ratio is one of the highest in the Netherlands. We have the first ultra-fast charging station in the region, along the motorway. Moreover, we have plans to install a sustainable heat network in one of our neighbourhoods (Rijnhuizen) where solar energy is used as an energy source. And finally, we want to make our city centre the most sustainable city centre in the Netherlands.
There are very few places left where construction is possible in Nieuwegein and the pressure on the housing market is strong. Could you tell us something about the housing programme of the city?
Nieuwegein has the ambition to build 5000 houses in the next 10 years. There are no rural areas available for this housing programme. Therefore, all projects will cause a densification of the inner-city area. Mostly we will achieve this by replacement existing buildings, conversion of (office) buildings and redevelopment of existing areas. Main target groups are elderly, people who can't afford a house on the regular market, starters on the housing market and those who want to make a step in their housing career.
Nieuwegein was mainly build in the '70's and '80's. Most people moved here back then as a young starting family and have stayed. We challenge the project developers to build projects that have appeal for those people, close to services and public transport. We want them to stay as independent and healthy as possible when reaching old age. When this first Nieuwegein generation moves out to an age proof home, their family homes become available for young families. At the moment the bigger projects are located in the city centre. They are part of our goal to be the most sustainable inner city in the Netherlands. About 1650 households can find their new home here. Another big housing project is the former monofunctional office area Rijnhuizen, with lots of historical marks in a green environment. In this area1500 to 3000 new houses will be added to the stock.
TheMayor.EU is a portal that showcases the best governance practices at the local level and helps the mayors of the European Union discover new approaches to common challenges. How can this be useful to your administration?
Nieuwegein is constantly looking for best practices and good examples of other local governments. The portal may offer us both inspiration and practical tools to use in our own policy and project challenges.
What good practices and innovations from your municipality would you like to share with our audience and in particular – with the other mayors in Europe?
WiFi was invented in the municipality of Nieuwegein. This year the IEEE milestone award is granted for this invention that changed the use and access to internet all over the world.
TheMayor.EU stands against fake news and disinformation. If you encounter such texts and materials online, contact us at info@themayor.eu