What is eaten traditionally on Christmas Day?
Find out what is actually served for Christmas in ten European countries
December 24, 2018 17:00
Olya Georgieva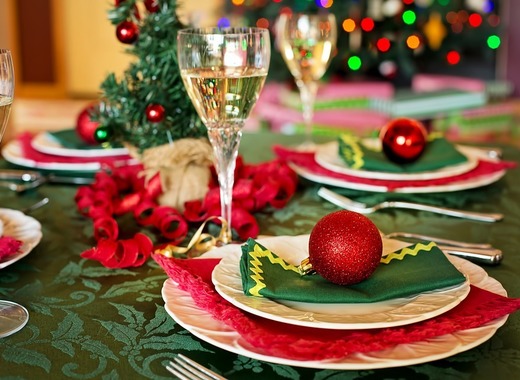 Source: Pixabay
Christmas is the most wonderful time of the year. It's a time for family, presents and a lot of delicious food. Christmas celebration varies from country to country, so let's take a look at some different Christmas food traditions around Europe.
England A roast turkey dinner is most common, served with roast potatoes; vegetables, including the one everyone loves to hate, Brussel sprouts; Cranberry or bread sauce and gravy; and small chipolata sausages wrapped in bacon, (colloquially known as pigs in blankets). Dessert can be Christmas pudding, (a cake of dried fruit sometimes flambéed in brandy), mince pies with cream or custard, Christmas cake, (dried fruit cake with icing), or yule log.
France Foie gras, smoked salmon, scalops, oysters and snails are a favourite for starters during Christmas meals. The main dish is almost always meat, be it roast turkey, capon or goose; with roast beef, game, and ham also on the menu at times. It is not an easy task to be a vegetarian on Christmas in France. Dessert is usually a La Bûche de Noël cake with a very rich chocolate, butter or cream frosting.
Germany The traditional Christmas meal features duck, goose, rabbit or a roast. This main dish is accompanied by German delicacies such as apple and sausage stuffing, red cabbage and potato dumplings. Dessert typically includes Christmas Stollen, considered one of the best Christmas pastries in the world!
Greece Traditionally, the main course of Christmas dinner in Greece is roast pork, with a variety of side delicacies. Christmas turkey has become popular in recent years. Melomakarona and kourabiedes are the two varieties of Christmas cookies served in Greece are called Melomakarona. They are made with semolina, cinnamon, and clove cookies drenched in honey. Christopsomo is the bread that is made on Christmas Eve, which has a cross carved into the top crust before it is baked.
Hungary Fish soup or poultry is the main dish. Traditional desserts are poppy seed rolls or nut rolls. According to traditional beliefs the fish scales represent money, poppy seeds bring luck and happiness, while the walnut is a symbol of richness. Eggnog is usually a part of the menu as is kocsonya, ( a meat jelly made of thick broth).
Italy Italy has numerous regional traditions when it comes to Christmas dinner. In some parts of Italy, they celebrate with The Feast of the Seven Fishes. This meal includes seven different fish prepared in seven different ways. More often than not, two of the featured items are baccala (salted cod) and calamari. In other areas, they eat roasted lamb, or poultry roasted or boiled and seasoned with sauce. As desserts panettone and pandoro are popular in the North of Italy, with pastiera, struffoli e cassata in the South of Italy.
Poland The most important meal including 12 courses is the dinner on December 24, when dishes include carp, red borscht soup with uszka, (small stuffed raviolis), and cabbage with mushrooms. It is a meal without meat. It will also include the family sharing a special bread wafer called "Oplatek", which symbolises forgiveness.
Portugal On Christmas Eve, a family dinner known as the night of the "Consoada" is celebrated. The word Consoada refers to a small meal that is taken at the end of a day´s fasting. Portuguese eat a very simple meal of boiled cod or octopus with potatoes, cabbage, carrots and hard-boiled eggs, and drizzled with Portuguese olive oil. Christmas day meals usually consist of meat dishes such as roast Pork, chicken, or lamb.
Sweden Julbord, a three course meal, is served on Christmas in Sweden. The first dish is usually fish – often pickled herring. Second, cold cuts (including Christmas ham) along with sausages are served. The third course is often meatballs and a potato casserole called Janssons frestelse. For dessert, rice pudding is popular, but there's another treat for which the Swedes are known to make around this time – Saffron Buns.
Lithuania Kūčios, the traditional Lithuanian Christmas dinner, is held on December 24th every year. And hosting kūčios is no small feat – this meal can take up to a week to prepare. Originally kūčios had nine dishes. It was a pagan practice that later expanded to 12 dishes (one for each apostle) when it was appropriated by the Christian church. No meat, dairy, or hot food are a part of this meal. Instead, it includes fish, breads, and vegetables. Some of the items you might see on the menu are herring served in a tomato, mushroom or onion based sauce, smoked eel, vegetables such as potatoes, sauerkraut (it's cabbage so it counts as a vegetable, right?), and mushrooms, bread or cranberry pudding.
What meals or treats do you and your family enjoy during the holidays? We'd love to hear about them in the comments. But no matter what you eat during this time of year, we wish you a magical and blissful holiday! Have a merry Christmas and prosperous New Year!
Source: euronews.com
TheMayor.EU stands against fake news and disinformation. If you encounter such texts and materials online, contact us at info@themayor.eu