Why decorate boats and not Christmas trees in Greece?
The Christmastime Greek tradition called "Karavaki" in Greek means "small boat"
December 24, 2019 19:00
Monika Dimitrova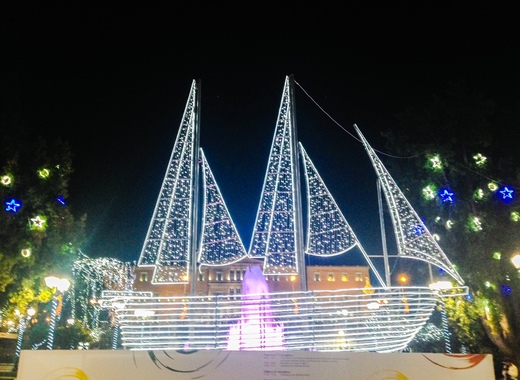 Source: Athens Municipality
All around the world, Christmas is associated with the ancient tradition of decorating a tree with numerous ornaments and lights. However, according to an old Greek traditional custom people should decorate a boat rather than an evergreen tree at Christmastime.
Nowadays almost every city across Greece and nearly every household decorates a Christmas tree, but there are still numerous public spaces where one can see a Christmas boat nearby. On many Greek islands, yet the Christmassy-decorated boats still remain the most popular symbol of the beautiful winter season.
Deeply rooted symbiotic relationship between the Greeks and the sea
The tradition is named "Karavaki" and in Greek means "small boat". It represents the deeply rooted symbiotic relationship between the Greeks and the sea.
The most logical explanation of the tradition is that the inhabitants of the southern islands of the Aegean Sea were simply not used to trees at all. The islands are dry, and the only trees that can be found are short, bushes or olive trees. So they started to decorate their boats.
Since antiquity Greece is a nation that takes great pride in its sailors and captains, making these men a symbol of local and national identity. In the past, almost all the men of the islands were away from their homes and families for months.
The happiness of finally seeing the boats of the sailors and captains coming back made for a perfect occasion for celebration by the island women. These traditions, in turn, led to the establishment of the sailboat as a symbol of honouring the courage of those men who braved the seas and then managed to return during the winter season.
Another popular explanation is that boats are decorated because of the Saint Nicholas celebrations on his feast day on 6th December. He is the patron saint of sailors.
Apart from the reasons why this beautiful tradition began, what's even more important is that it has somehow managed to survive over the centuries and remains alive to this day across Greece.
TheMayor.EU stands against fake news and disinformation. If you encounter such texts and materials online, contact us at info@themayor.eu