German cities' efforts to curb e-scooter tide
E-scooters are proving to be a real urban menace when not regulated properly
5 de septiembre de 2019 17:30
Anton Stoyanov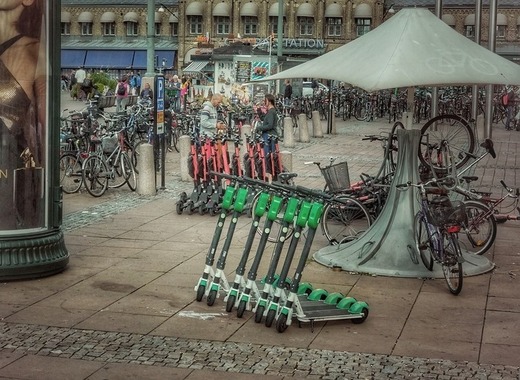 The use of shared transportation services such as bikes and e-scooters has skyrocketed over the last few months. European cities have been swarmed with the vehicles and have been slow to respond, being unable to legislatively cope with the issue. But laws are finally catching up with the times – at least in some settlements in Germany.
The strongest attempts at regulation come from Berlin, where lawmakers want to ban the parking of e-scooters on pavements. They believe they should be reserved entirely for pedestrians and no vehicles should interfere with people taking a walk. Further plans include the establishment of zones made especially for the parking of e-scooters. Berlin's local authorities are hoping that the service providers will be eager to participate in regulatory schemes as they should in the end improve the lives of everyone living in the city.
Cologne and Dresden are also establishing no parking zones for electric scooters. Dresden is even introducing a cap of e-scooters that each company is allowed to operate in the city. In order to avoid overcrowding, said cap is 2000 scooters. Hamburg is also following suit and has established 500 no parking zones within its confines.
Other German cities like Munich or Frankfurt have not yet introduced legislation to limit the use of scooters, but that does not mean that citizens are not complaining. Quite the opposite, but officials are saying that there are always complaints when it comes to the transport sector, so that is unavoidable.
With shared transportation services coming at the fore in European cities it is not only up to the local government to regulate their responsible use, however. It's also up to every citizens and tourist who utilizes them to do their best to keep the streets and sidewalks safe and clear.
TheMayor.EU se opone a la desinformación y a la difusión de noticias falsas. Si usted encuentra ejemplos de éste tipo de noticias, escríbanos a info@themayor.eu