Available in:
Comparta el artículo
Irish schools reopen after 6 months' recess
Trade unions complain about insufficient protections against Covid-19 for staff with underlying health conditions
25 de agosto de 2020 12:30
TheMayor.EU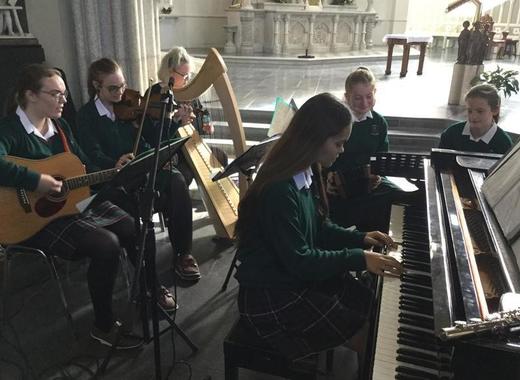 Fuente: St Leo's College in Carlow
Children across Ireland are beginning to return to school today after spending nearly six months home-bound due to the coronavirus lockdown. As RTÉ reports, the phased reopening involves 4 000 primary and secondary schools attended by almost 1 million children and teenagers.
Phased reopening, reconfigured spaces
One of the first schools to reopen to students this morning is St Leo's College in Carlow, the 14th century capital of Ireland, where 152 girls are beginning their second-level education. The prestigious secondary school, founded by the Sisters of Mercy way back in 1839, is opening doors to first-year pupils first, like most schools across the country, with sixth years to come back on 27 August.
To ensure a safe environment for students and staff, most schools have dramatically reconfigured their interiors, introducing hygiene measures. Face masks are not mandatory for primary school children and teachers, but anyone wanting to wear one is free to do so, according to the advice of INTO teacher union and education experts. Regarding second-level students and teachers, the Department of Education has recommended that they wear face coverings, wherever maintaining a 2 m physical distancing is not possible.
Concerns about protections for staff with underlying health problems
Not all is roses, though, as two trade unions have questioned the strength of safety provisions for staff with underlying health conditions. Fórsa, the union representing Special Needs Assistants and school secretaries, has voiced a concern that standard occupational health advice and new guidelines issued by the Department of Public Expenditure and Reform (DPER) do not ensure sufficient protection against Covid-19 to classroom-based staff with lung and respiratory conditions, heart disease, cancers and other underlying health problems.
The union has informed Minister for Education Norma Foley that these SNAs are at high risk due to the specifics of their job, as they must work very close to the students they give personal care to.
Meanwhile, ASTI teacher trade union has sought the mediation of Minister for Health Stephen Donnelly to secure a meeting between the union and the Health Protection Surveillance Centre (HPSC) regarding the summoning of staff in the "high risk" category back to school. The ASTI said it was receiving a significant number of calls from worried teachers whose illnesses include chronic kidney disease, cancer and serious heart disease and who are required to return to school.
TheMayor.EU se opone a la desinformación y a la difusión de noticias falsas. Si usted encuentra ejemplos de éste tipo de noticias, escríbanos a info@themayor.eu