Available in:
Comparta el artículo
Mobile shower travels across Hamburg to help the homeless
The "Duschbus" was launched last Saturday and can be spotted on the streets of Hamburg
12 de diciembre de 2019 14:30
Anton Stoyanov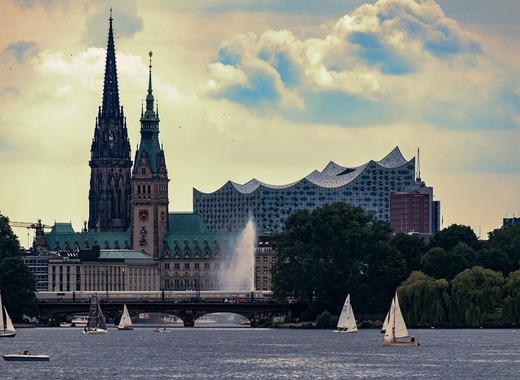 Lack of housing has been one of Germany's most pressing issues in recent years. With rents and prices rising, the number of homeless people has also been steadily increasing over the past decade.
While local, regional and federal governments have been busy fighting landlords and establishing stricter pricing rules, citizens are also looking for creative solution aimed at helping those who are suffering the most – more specifically, people who have been forced out of their homes and are now living on the streets.
Citizens helping citizens
To that end, a new initiative was launched last Saturday in the Hanseatic city of Hamburg. The travelling shower, nickname the "Duschbus" – or the shower bus, aims to help the city's homeless stay clean.
The project was crowdfunded by locals and in just six weeks it managed to attract funding amounting 168,000 euros. The bus boasts three separate bathrooms, all equipped with toilets, sinks, toiletries and of course – showers. It carries two water tanks with the capacity of holding around 1,000 litres of water and can also be connected to the city's hydrants and sewer systems. The water is being paid for and provided by the city of Hamburg. The local administration has taken up the task of assisting the bus's operators in their plight of helping the local homeless.
The idea for the "Duschbus" came to a man who had been previously homeless. He believes that homelessness is a self-perpetuating cycle – the longer someone stays homeless, the harder it is for them to get out of the situation. "Anyone who feels dirty avoids contact with other people. There is a lot of shame, and it is a vicious circle. That's why the Duschbus provides a solution and builds a bridge back to society", he stated according to Deutsche Welle.
The bus can serve up to 30 people per day and will be changing up its location periodically in order to help as many as possible. According to the operators, they currently have the capacity to maintain the bus for another 6 months and will be relying on crowdfunding to keep it going in the future.
TheMayor.EU se opone a la desinformación y a la difusión de noticias falsas. Si usted encuentra ejemplos de éste tipo de noticias, escríbanos a info@themayor.eu