Available in:
Comparta el artículo
Rock climbing takes center stage in Vila Nova de Poiares
The city council unveiled 41 routes with varying degrees of difficulty
5 de agosto de 2020 18:30
Tzvetozar Vincent Iolov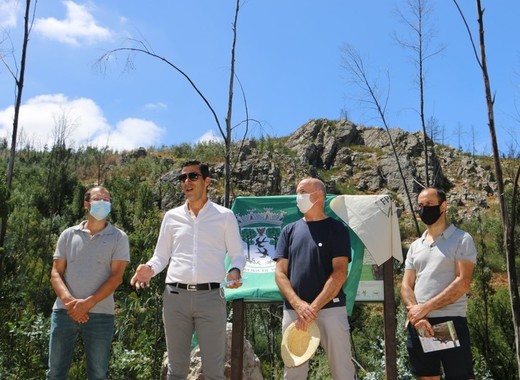 Fuente: Vila Nova de Poiares Municipality
On Saturday, 1 August, the Mayor of Vila Nova de Poiares, João Miguel Henriques, accompanied by other officials, formally opened a specially designated Climbing Area in the municipality. It is located near the Fraga Swimming Pool Complex and it counts with 41 routes of different grades of technicality.
A response to the ever-increasing popularity of outdoor sports
The project was carried out under the initiative and participation of the Portuguese Federation for the Promotion of Mountaineering and Climbing, whose President Carlos Gomes also attended the event.
The 41 routes are distributed among 4 different cliffs in the zone. These quartzite outcrops all have an eastern orientation which will allow climbing throughout the whole year. In the winter season, this would be possible in the mornings and during the summer in the evenings.
The Miradouro cliff counts with 5 routes with a height between 8 and 10 meters and maximum difficulty grade of 6c. What is astonishing about this location is that it allows scenic views both towards the Fraga valley and the town of Vila Nova de Poiares.
The Penedo da Desgraça and the Penedo do Mouro cliffs, respectively with 19 and 2 routes, offer higher grades of climbing difficulty – up to 7b +. The route heights on the first one can also reach 18 metres.
Those who are new to rock climbing might be more interested in the Rua Sésamo, which is considered the landmark for beginners in this sport. It offers 15 routes with difficulties ranging from grades 3 to 6.
"[This] provides yet another answer for what is a growing increase in demand for adventure and nature sports in recent times, such as paragliding, hiking treks, and mountain biking trails, among others, which are becoming more and more important in the municipality, and with which we have sought to enhance the local capacity in these spheres," explained Mayor Henriques.
TheMayor.EU se opone a la desinformación y a la difusión de noticias falsas. Si usted encuentra ejemplos de éste tipo de noticias, escríbanos a info@themayor.eu