Available in:
Comparta el artículo
Smart zebras in Debrecen
Discover how improved design of pedestrian crossings can contribute to the safety on the road
6 de enero de 2019 13:00
Aseniya Dimitrova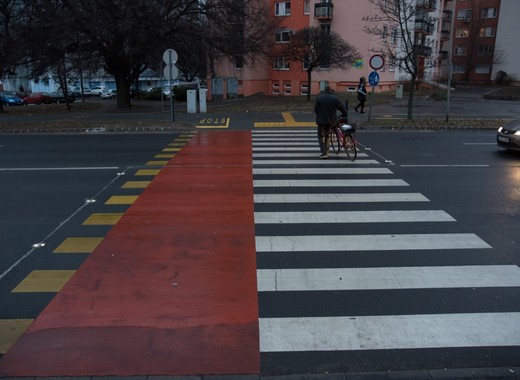 Fuente: János Miskolczi, City of Debrecen
New solutions for road safety are being applied in Debrecen. The second largest Hungarian city after Budapest has installed in December one of several pedestrian zebras with new and improved design, in the attempt to guarantee better protection of pedestrians. They are targeting especially hazardous intersections which are furnished with such zebras with priority.
The new zebras are provided with LED lights built into the pavement or with yellow flash-lights. Some of them have already been installed at the intersection of Bolyai, Civis and Jerikó and Csapókert quarter.
The new appliances are part of Traffic Development Programme of the New Phoenix Plan of the city and have been built over the past two years. During a press meeting on 7th December Mr. György Korbeák, councilman for the ward, underlined the importance of the new tool placed on Bolyai Street, due to the high traffic of both cars and pedestrians.
Source: City of Debrecen