Available in:
Jaga artiklit
All the problems of the world exist in cities, but so do all the solutions
Paul McAuliffe, Lord Mayor of Dublin on affordable housing, single-use plastics, cycling and more
N, 18. juuli 2019, 11:30:00 +0300
Aseniya Dimitrova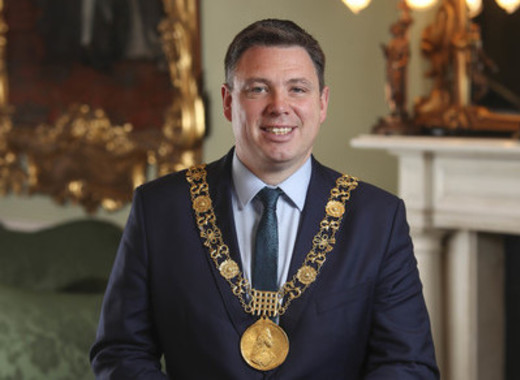 Allikas: City Council Dublin
Councillor Paul McAuliffe was elected Lord Mayor of Dublin at the Annual Meeting of Dublin City Council held on 7th June 2019. He was first elected to Dublin City Council in 2009 to represent the people of Finglas, Glasnevin, Ballymun and Santry and was re-elected in 2014 and 2019. Outside of politics he has been actively involved in local youth and community groups and he has worked as Communication Manager with the Royal College of Physicians of Ireland and the Irish Platform for Patients' Organisations Science and Industry.
Cllr McAuliffe, the priorities for your term in office will be housing, transport, inequality, mental fitness and climate action. Could you give concrete examples of the main projects and initiatives and tell us why they are important?
Over the course of the term we will be making announcements regarding the details of these policies, but it is all based on the agreed platform of the parties who have come to the agreement on Dublin City Council. It is made up of four parties – Fianna Fáil, the Labour Party, the Green Party and the Social Democrats. We are the consolidated group in the council and we have agreed on a platform which we call the Dublin Agreement. It is about providing greater leadership in the city and connecting the role of Mayor and the role of the elected Chamber and ensuring that the public realize that there is a connection between the two and that working together we can solve the cities issues.
"We need to shift towards a greater supply of public housing"
So in the area of housing for example we believe that we need to shift towards a greater supply of public housing. There has been a lot of discussion about the Vienna housing model and the idea is that a broader range of incomes would have access to public housing. And that is to tackle many of the social issues around housing. But secondly, because of the economics of our city. We want to make sure that this is a great city to live in and therefore it will be a great city to invest in. If we fail to ensure that there is a supply of affordable housing the city will not remain competitive.
"Dublin City Council has an opportunity to champion the cycling network"
And within the powers that are assigned to the Lord Mayor and Dublin and Dublin City Council, the main transport that I believe we can improve is cycling. There will be a new cycling network established in Dublin City and I think Dublin City Council has an opportunity to champion the cycling network but also to encourage those who are not traditional cyclers to take up or to participate in cycling. And also start to discuss the governance of different modes of transport, particularly e-scooters and e-bikes, so these will be the two areas that we will be lashing out over the term.
And what about the inequalities?
The area of the city which I represent has traditionally been a low-income area. And I want to make sure that people who are successful from those areas have an ability to inspire younger people. And so I am going to be establishing a programme, which allows people from working-class areas of the city who have achieved success to provide a platform which allows them link back with their communities in a structured way, to provide scholarships and networking opportunities and work experience opportunities among them all. This is something very traditional in, for example, private schools, and elite networks. And I believe that working class areas and low-income areas of the city should organize themselves in a similar way and that those who have achieved success from those areas should be championed and we should convene them together to ensure that they are able to give back.
Alright, and another priority is the mental fitness…
Yes. In discussing mental health there is a lot of discussion around the issue of suicide which is very important. But I believe there should also be a greater discussion around the active engagement in mental fitness. The focus on both physical and mental fitness as being two sides of the same coin. And to have removed the stigma around poor mental health, we can empower people by giving them the mechanism to have greater mental fitness. I am not an expert in this area so I intend to work with different organisations in the mental health area and to speak to them about how we can do this and how we can work with sporting organisations and to link it with the reduction of obesity and the physical activity. Because I believe they are all connected.
And finally, regarding climate action?
Yes, all of these are very big areas. And we want to select one initiative in each area so that we can deliver. In the area of climate action I really believe it is linked with the issue of cycling. Because I think the best way that cities can tackle climate action is by having better public transport. So these two issues are linked together. But equally we need to look at the use of single-use plastics. Not just plastic straws but the use of single-use plastics by the city. And I want Dublin City Council to move to a situation where we will remove the use of single use plastics. That will take some time, but I believe it will help us highlight the challenge for other people and encourage other people to do the same.
One of the projects you are motivated to advance as a councillor is the Setanta Cultural Quarter. How is it intended to promote the Irish language and culture?
Dublin is a city of villages and each village has its own identity and its own cultural hub. So, Irish language and Irish music are very important, the Gaelic games: they are all things that are unique to Ireland and we should protect them. But they should be inclusive, not exclusive. So they should be in a setting that encourages people from outside those interests into the area. So they need to be linked with public libraries and educational institutions. So I will be championing this, working with department and government agencies to ensure that Ballymun is made what is called an urban Gaeltacht. A Gaeltacht is an Irish speaking community. We have them in many rural areas but I believe we should make Ballymun an official urban Irish-speaking cluster that is called a Gaeltacht.
Speaking about things that are typical of Ireland, let us talk about the Lord Mayor title. Could you tell us more about the main duties and occupations that come with the post?
I would say that the Lord Mayor is like the mayor of Rotterdam, for example. It is indirectly elected by the Chamber of the Council. The term is one year and the powers rest between ceremonial functions and acting as an influencer of champion for the city. So, sometimes in the absence of strong local government the mayor does not have technical powers but they have influence and the ability to convene. That is the main focus which we have. So we have the ability to have very senior meetings with government departments and to deliver results in this way. So in my view we should move towards a five year term for the mayor and that the people of the city would have greater ownership of the selections of the office. We will soon in Dublin have a citizens' assembly to discuss the local government and I look forward to leading the debate on that.
You have the honour of being elected the 350th Lord Mayor of Dublin. In your opinion, how has this role changed over the years?
Oh, in many ways. This role started as being the person who hosted the King's representative in Ireland. And now I believe that as a modern European city we have an ability to work with other European cities to respond to the challenges of the world. All of the problems of the world exist in cities, but all of the solutions to these problems also exist in cities. I believe that the Lord Mayor of Dublin has the ability to address those issues.
"We need to protect the values of the European Union"
I attended the European Union Summit of Capital City Mayors in London with Sadiq Khan and I believe we started to develop our strong relationship with other capitals. And that is what we need. As a European family, we need to protect the values of the European Union and they are the values of working together, the values of openness and the values of social solidarity.
And the final question is a more personal one. What does it mean to you to be the first citizen of Dublin, even if only for just a single year?
It is a very personal honour for me and for many of the members of my family. The beauty of this is that as an ordinary person you get to occupy and extraordinary office. But you need to remember why you are here and that is to help the people of the city. So, once the initial shock and delight of being the Lord Mayor have passed, it is time to roll up your sleeves and to do the work.
Learn more about Dublin here.
TheMayor.EU stands against fake news and disinformation. If you encounter such texts and materials online, contact us at info@themayor.eu